Our Lady can snuggle your child to sleep, thanks to these dolls that are so thoughtfully made.
Most little kids have a special doll or stuffed animal that they love and carry around with them everywhere. There are even books and movies about the pathos of a deeply cherished toy being put aside as a child grows up, such as The Velveteen Rabbit and Toy Story 2.
But what if the beloved toy was not a fictional character to be forgotten on the road to adulthood, but an image of a real person, a saint of God, who lives forever in Heaven? One can only imagine the special relationship the child would have with that saint, as snuggling and playing with the toy transforms into a real, deep spiritual friendship as the child grows up.
Fortunately, several Catholic artisans have recognized what a wonderful gift it would be for a child to play with and love dolls of the saints. There are many saint dolls on the market, including popular peg dolls on Etsy, but the most lovable ones are the soft, cuddly saint dolls that are fairly new on the scene. These 3 Catholic shops sell some of the sweetest saint dolls you can find in the market. They may just become your little one's most-loved toy. Or you might find they make a perfect Christmas gift for a grandchild or godchild.
Be A Heart
Erica Tighe Campbell, the talented artist behind Be A Heart, just launched her classic, gentle Mary Doll, which you can order here. The website says,
Mary is crafted from calico cotton with a polyester filling. She has embroidered features and long, wool yarn hair. Each Mary doll is dressed in the same outfit — a removable beige dress and Marian blue veil. We are currently working on Marian outfits for her different apparitions to be released at a later date.
Shining Light Dolls
The plush dolls available from Shining Light include Jesus, Mary, St. Therese of Lisieux, St. Francis of Assisi, and several other saints. And they could not be cuter! You can see and order them here. The website description explains why saint dolls make so much sense:
Studies show cuddling plush dolls evokes a sense of security, comfort and peace in children. Just like a well-rooted faith! Our plush dolls combine the best of both worlds, and teach children to associate these positive emotions with their faith.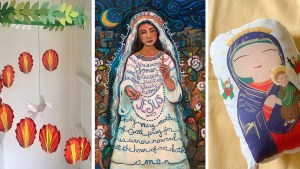 Read more:
6 Amazing Catholic-themed baby gifts from talented artisans on Etsy
Marek Made
The dolls from Marek Made are in a category of their own, as each one is handmade to order and can be found here. The artist, Erin Marek, sews dolls of many different saints, but because they are made in small batches, only a few are available to purchase at any given time. (You can follow her Instagram account for updates about which dolls are available.) The wait is well worth it, however, for these heirloom-quality creations.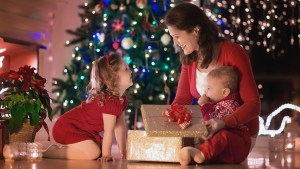 Read more:
10 Catholic gifts for babies and toddlers