Did you know the word "cemetery" means "sleeping place"?
For many, death appears to be the end of all things, the completion of our existence. However, for Christians, death is much more appropriately labeled as a type of sleep, where our bodies rest until the day of the resurrection.
This concept is consistent with even the word "cemetery," which is derived from the Greek word, koimeterion, meaning, "sleeping place."
It should come as no surprise that the most common abbreviation found on gravestones is "R.I.P," "rest in peace" (from the Latin prayer requiescat in pace).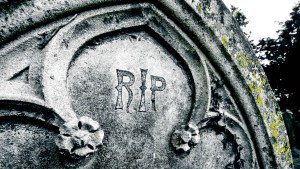 Read more:
Did you know R.I.P. is a Latin prayer?
The Bible is full of quotations that equate death with a type of sleep, such as Jesus' own words about a girl who had died.
"The girl is not dead but sleeping." And they ridiculed him. When the crowd was put out, he came and took her by the hand, and the little girl arose. (Matthew 9:24-25)
St. Paul as well named death a type of sleep, awaiting the resurrection of the body.
We do not want you to be unaware, brothers, about those who have fallen asleep, so that you may not grieve like the rest, who have no hope. For if we believe that Jesus died and rose, so too will God, through Jesus, bring with him those who have fallen asleep. Indeed, we tell you this, on the word of the Lord, that we who are alive, who are left until the coming of the Lord, will surely not precede those who have fallen asleep. (1 Thessalonians 4:13–18)
The reason why this is significant is that it depicts death as something that is temporary. When we fall asleep each night, we wake up in the morning. So too when we die; we will rise again, body and soul.
This is meant to be good news, assuring us that while death can be scary, it is not the end. Our existence will not end when the last breath leaves our body, but will endure for all eternity.
Read more:
Walk around a cemetery this November