This list highlights the language of one of the most fundamental principles the world needs to embrace today.
The concepts of "inherent human dignity" and the "equal and inalienable rights" of "all the members of the human family" are foundational cornerstones recognized by The Universal Declaration of Human Rights proclaimed by the United Nations General Assembly in Paris on December 10, 1948. 
In the Encyclical Letter Fratelli tutti, Pope Francis highlights the same concept of human dignity as the foundation for universal fraternity from a believer's and a non-believer's point of view. 
Knowing the following points about human dignity found in this Encyclical will help understand and meditate on its call to a "new vision of fraternity and social friendship" that should not "remain at the level of words." (n. 6).
The Holy Father states further, "It is my desire that, in this our time, by acknowledging the dignity of each human person, we can contribute to the rebirth of a universal aspiration to fraternity" (n.8).
Human dignity from a universal or from a non-believer's point of view:
Every human being, every person, is "sacred and inviolable" (n.207).

Every person, every human being, possesses the "same

intrinsic

dignity" (n.39), the same "

innate

human dignity" (n.22), the same "intrinsic

worth

" (n.107).

Every person, every human being, possesses "an inalienable dignity" (n.27) or an "inalienable

human

dignity (n.127), the phrases are used interchangeably. 

Every human being is part of "a single human family"; all are "fellow travelers sharing the same

flesh

"; all are "

children of the same earth

which is our common home … brothers and sisters

all

" (n.8).  "All people are my brothers and sisters" (n.125).

The truth "that every human being possesses an

inalienable dignity

is a truth that corresponds to human nature"

itself

(n. 213) "apart from all cultural change" (n.213) or "circumstances" (n.107), regardless of "origin, race or religion" (n.39), regardless of age or disability (n.98, 106) or of sex ("women possess the same dignity and identical rights as men" (n.23)).

Human beings possess "the same

inviolable

dignity

in every age of history

and no one can consider himself or herself authorized by particular situations to deny this conviction or to act against it" (n.213).

Our human dignity is not lost, not even by our worst actions, for "

not even a murderer loses his personal dignity

" (n.269).

The "fundamental dignity of each person" merits "unconditional respect" regardless of "ethnic origin or religious belief" (n.247) and regardless if they are

improperly or wrongly considered "'

not yet useful' – like the unborn,

"

or considered

"'

no longer needed' – like the elderly" (n.18).

Each individual is "a unique and unrepeatable person" (n.98).
Human dignity from a believer's or from a Christian point of view:
Human life is sacred (n. 283).

The human person is "

the visible image of the invisible God

" with a "transcendent dignity" that cannot be denied, and who by its "very nature" is the "subject of rights that no one may violate" (n.273, 24).

"God has created all human beings equal in rights, duties and dignity, and has called them to live together as brothers and sisters" (n.5, 287). 

"As children of the one God, we are all brothers and sisters" (n.279). 

Believers know that "… God loves every man and woman with infinite love and "thereby confers

infinite

dignity" upon all humanity" (n.85, 124).

God himself

guarantees

the human dignity of every human being, even of those who have committed murder (n.269).

For Christians, "the wellspring of human dignity and fraternity

is in the Gospel of Jesus Christ

" and from it arises "the primacy given to relationship, to

the encounter with the sacred mystery of the other

, to universal communion with the entire human family, as a vocation of all" (n.277).

Our "common Father" is the source of the fraternity God asks of us (n.46). The "heavenly Father 'makes his sun rise on the evil and on the good' (

Mt

5:45). Hence the summons to 'be merciful, just as your Father is merciful' (

Lk

6:36)" (n.60). 

"Religious convictions about

the sacred meaning of human life

permit us "to recognize the fundamental values of our common humanity" (n.283).

"As believers, we are convinced that,

without an openness to the Father of all

, there will be no solid and stable reasons for an appeal to fraternity. We are certain that 'only with this awareness that we are not orphans, but children, can we live in peace with one another.' For 'reason, by itself, is capable of grasping the equality between men and of giving stability to their civic coexistence, but it cannot establish fraternity'" (n.272).
As one reads Fratelli tutti, one will discover that all of the relations between persons and all the different structures created in society, are to be guided without exception, by the above truths and principles. 
One also finds that the solutions to the multiple problems, situations, and challenges found in today's society, are to be solved by recognizing, acknowledging, respecting, and protecting these foundational truths. This gives us hope!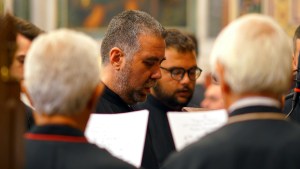 Read more:
United Nations recognizes Byzantine chant