Politics is a lofty vocation and "one of the highest forms of charity," but it has many inherent temptations to overcome, as these men and women did.
Every human person is in need of conversion, perhaps especially those tasked with leading nations. When you combine the many pressures of public life with the need to satisfy voters and the tendency of power to corrupt, finding holiness in politics is tremendously difficult. But there is great potential for holiness in the vocation to political life. Pope Francis has said, "politics, though often denigrated, remains a lofty vocation and one of the highest forms of charity, inasmuch as it seeks the common good" (Evangelii Gaudium 205). Indeed, many saints have been sanctified through their political work. Through their intercession, may the same be true of all politicians.
St. Pulcheria (399-453) was the oldest child of the emperor of Byzantium. Her father died in 408, at which point her brother Theodosius was crowned emperor, ruling through a regent while 9-year-old Pulcheria took charge of his education. At 15, Pulcheria was made regent; she and her two sisters also made vows of virginity. She ruled on Theodosius' behalf until he came of age in 416, then ruled alongside him as Augusta (empress). She balanced duties of state with a life of deep prayer and made the imperial palace something of a monastery. After the death of her brother, Pulcheria again ruled as empress, though (for the stability of the empire) a Josephite [non-sexual] marriage was arranged between her and the general Marcian. Before her death two years later, Pulcheria was summoned by Pope St. Leo the Great to the council of Chalcedon to help the bishops better understand the two natures of Christ.
Bl. Francis Taylor (1550-1621) was an Irish nobleman who married the granddaughter of Bl. Margaret Ball. Taylor's political career peaked when he was elected Lord Mayor of Dublin; he also served one term as sheriff and seven terms as treasurer, while serving as an alderman for over 30 years. When Taylor and another Catholic were elected to the Irish Parliament, the English were unhappy with the selection of two Catholics from Dublin. The election was overturned and two Protestants put forward, which resulted in a riot. Taylor was later arrested for being Catholic (though his faith had been well known in the decades he served in office before his attempt at entering Parliament). He spent seven years in prison, refusing to deny his faith, before finally dying there. He left behind a widow and six children.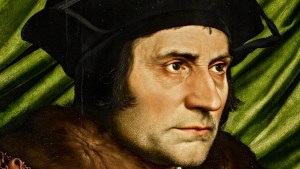 Read more:
A prayer from St. Thomas More, to overcome division and enmity
Bl. John Baptist Nam Chong-Sam (1812-1866) was the adopted son of a high-ranking government official in Korea. Nam's father eventually realized how difficult it was to be a Christian and a government official at the time. He left his position, but Nam had no such qualms. He pursued an education with that end in mind and became a governor when he was 39. Unfortunately, his position required him to participate in state ancestor worship ceremonies and attend parties where he maintained his chastity only with great effort. He attempted to reconcile his faith and his work for the sake of the many relatives who depended on his financial support, but ultimately Nam realized that he, too, would have to leave behind his life in politics. Instead, he taught Korean to foreign missionaries and Chinese literature to the children of government officials. His faith was known to many of those officials, and when the persecution of 1866 broke out, he was arrested and martyred.
Bl. Miguel Gómez Loza (1888-1928) was a young lawyer who established a national congress for Catholic workers in Mexico in the middle of the Mexican Revolution. He spent most of his time organizing protests against the government, for which he was arrested 59 times. He served as legal counsel to many student protesters in the lead-up to the Cristero War and led an economic boycott in protest of anti-Church laws. When the Union Popular entered into the war against Calles, Gómez was made civil chief of his area (leading the people and encouraging the troops while not taking up arms), then governor of Jalisco. A husband and father of three, Gómez was committed to nonviolence, though he did not attempt to thwart the military efforts of the Cristeros. He served as governor for a year before he was discovered and martyred.  
Servant of God Julius Nyerere (1922-1999) is known as the "Founding Father of Tanzania" and served as its president for over 20 years. The son of a Zanaki chief, he studied in Uganda and Scotland before returning home to campaign for independence from British rule. He served in the colonial government before independence was achieved in 1961, then was elected prime minister and later president. A convert at the age of 20, Nyerere was married and had seven children. He wrote poetry, translated works of Shakespeare into Swahili, and was a daily communicant; he credited his great political success to the grace he received from the Eucharist. Though he established a socialist society in post-colonial Tanzania, Nyerere's socialism was rooted not in Marx but in African communal living. He supported several East African countries in their pursuit of independence, but after his single-party state was plagued by corruption he chose to leave office and aid in the transition to a multi-party government. A humble man, he then retired to a small village, where he continued to attend Mass daily.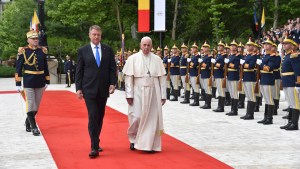 Read more:
Pope: We have to do more than insult our politicians. We have to pray for them