These episodes will help you prepare your soul and your home for Advent and Christmas.
What! Advent, already? It's not even Thanksgiving yet! That's true, but if there were ever a year when we could use some holiday cheer and the joyful warmth of preparing for Christ's birth, this is it.
If you think about it, Advent is such a special season of the liturgical year that it's worth taking a little extra time to prepare for it. These 10 podcast episodes (from years past) will help you ready your mind, heart, soul, and home for the prayerful expectation of Advent.
This 2018 episode from The Jeff Cavins Show addresses "how we can approach this essential season, and let it transform our lives."
This episode of The Fr. Mike Schmitz Catholic Podcast from 2019 asks listeners,
Advent is the stark reminder that we need to get ready for eternity. With that in mind, what if you prepared as if December 25 will be the day you die?
The Light Shines in the Darkness: Advent Series
If you love a good podcast, you're in luck! Abiding Together, a weekly podcast hosted by Michelle Benzinger, Sr. Miriam James Heidland, and Heather Khym, has a four-part series on all things Advent.
The incredible Meg Hunter-Kilmer offers a reflection on Advent in this episode from 2016.
Word On Fire 156: The Advent Revolution
Bishop Barron discusses Advent as "a time of spiritual revolution" in this 2018 episode, and shares some of his Advent recommendations.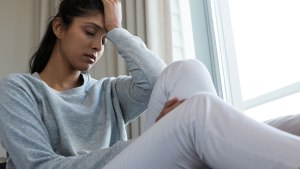 Read more:
For the tired, worried, and stretched very thin: The Advent message you need
One of the oldest Catholic podcasts, Catholic Stuff You Should Know, explores the history and tradition of Advent (and those iconic wreaths!) in this 2010 episode.
Advent Low-Down: Our Guide to Living the Beauty of the Season
If anyone knows about liturgical living, it's Haley Stewart of Carrots for Michaelmas. In this 2016 episode, she and co-host Christy Isinger discuss "what we've learned over the years about being nourished by observing Advent and avoiding the pressure of making Christmas perfect."
Catholic Bishops' Advent Reflections on Mercy and Forgiveness
In 2015, the Catholic Bishops of England and Wales recorded these daily Advent reflections on mercy, compassion and forgiveness. The accents alone make it worth a listen!
Ignatian Spirituality Advent Reflections
The New England Province of Jesuits and other online sources recorded these meditations in 2012 to help listeners prepare for Christmas and enrich the Advent season.
Deacon James Keating recorded these reflections in 2016 for an Advent evening of prayer and meditation.
Read more:
3 Simple ways to prepare your family for Advent