This year is the 190th anniversary of Mary's gift of this medal to the Church.
On the occasion of the 190th anniversary of the Marian apparitions to St. Catherine Labouré, Pope Francis blessed "the holy image of the Immaculate Virgin Mary of the Miraculous Medal" on November 11. This will mark the launch of a Marian pilgrimage by a delegation of members of the religious community connected to the figure of St. Vincent de Paul.
Nearly 200 years ago, the Virgin Mary appeared to French Vincentian nun Catherine Labouré in the chapel on Rue du Bac in Paris. To mark this anniversary, religious of the Vincentian family will travel to Italy from December 2020 to November 2021 to visit ecclesial communities of the Vincentian family.
At a time when the world has been struck by the pandemic and in the grip of "strong tensions," the spiritual children of St. Vincent de Paul wished to undertake "a journey of announcing God's merciful love," the press release explains.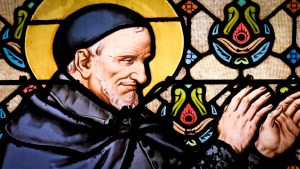 Read more:
4 Things you might not know about Vincent de Paul
Prior to this pilgrimage, a delegation will meet Pope Francis on November 11. On this occasion, in the presence of Father Tomaž Mavrič, Superior General of the Congregation of the Mission and of the Company of the Daughters of Charity of St. Vincent de Paul, the Argentinean pontiff is scheduled to bless "the holy image of the Immaculate Virgin Mary of the Miraculous Medal."
On the night of July 18 to 19, 1830, the Virgin appeared for the first time to Catherine Labouré, a religious sister belonging to the order of the Daughters of Charity of Saint Vincent de Paul, and asked her to come and pray at the foot of the altar where the tabernacle rests.
A second apparition followed on November 27, 1830, during which the Virgin asked the nun to have the famous medal struck. The Mother of Christ appeared one last time to the French woman in December 1830.
Read more:
In images: The fascinating symbolism of the Miraculous Medal
Far from being a "talisman," the function of the miraculous medal is to help the faithful to remember "the love of Jesus Christ and to increase our confidence in his Mother's help," says the website of the Chapel of Our Lady of the Miraculous Medal. The Virgin Mary is said to have "designed" the medal and to have attributed to it a "particular effectiveness."
"The people who wear it with confidence will receive great graces," the Virgin said to the nun during the apparitions.
Read more:
Is the brown scapular just a Catholic "lucky charm"?