After being baptized, the Roman solider continued to spread the Gospel and desired to serve God instead of Caesar.
St. Martin was a soldier in the Roman Empire during the 4th century, serving in Gaul (modern-day France). Initially he was a pagan, but after a miraculous encounter, was baptized into the Christian faith.
What is remarkable to many (and also the reason why he is the patron saint of soldiers) is that he initially did not leave the military. He continued to serve for a few years, being an example of holiness in the midst of his fellow soldiers.
According to the early 20th-century biography The Story of St. Martin of Tours, St. Martin preached more with example than words.
So our Saint stayed in the army serenely doing his allotted work, gentle, meek, and kind to all not preaching, not worrying other people to become Christians, not seeking to make converts of the men under him, but leaving their souls and his own soul to Christ. "It is His business; if He wants them He may appear to them as He has to me." But although he does not go about proselytising and haranguing like a firebrand, he leads souls heavenwards by example.To use a trite platitude: "Example is better than precept" any day.
However, there came a point where St. Martin wanted to devote more of his time to God, becoming a "soldier for Christ," serving exclusively in his army.
So for some years Martin continued to serve Cæsar, but in 341 … the acceptable time had arrived … for him to renounce the service of Cæsar, and to become in all men's sight, in word and in deed, as well as in heart and in soul, a soldier of the Crucified.
On the eve of a battle St. Martin expressed his desire to no longer serve Caesar.
On the eve 

of 

the expected encounter, according to the ancient usage, Constant distributed to the soldiers extra pay, called donatium. When 

Martin 

advanced in his turn, he absolutely refused to take the money from the Paymaster, and walking straight to the Prince, he said, in his serene way, "Hail, Cæsar, I have fought for you in the past, but in the future I will fight for Christ only; therefore, I will not take your money. I am from this moment Christ's soldier, and I cannot shed the blood 

of 

His children."
He was ready to walk into battle without any weapons, but peace was made before the battle ever began. His military career was over and for the rest of his life, St. Martin devoted all of his time and energy in spiritual warfare, performing miracles and fighting against the devil.
His example reminds us that sometimes God calls us to remain in our station in life as a Christian, bringing his light to others. At the same time, he can call us into a more intimate relationship and desires that we enter into his full service.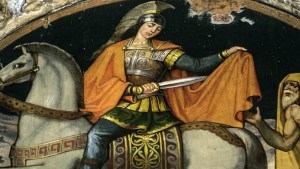 Read more:
The liturgical connection between Veterans Day and St. Martin's Day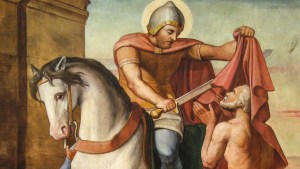 Read more:
How St. Martin the soldier defeated the many temptations of Satan