When musicians run charities, donation requests get creative.
Martha's Choice Marketplace, the largest and most visited food pantry in Montgomery County, Pennsylvania, has seen the demand for its services skyrocket in the months since the world pandemic began. Now, in order to secure reliable and sustainable funding to continue their good works, they have launched a new campaign to request donations. Two of the pantry's managers put together an original song to raise money for the pantry. 
When they found their funds were dwindling, Patrick Walsh and Eli Wenger put their musical talents to use, penning and performing their original tune, "We're All in This Together." Through a mix of singing and spoken word, they relate pertinent information about Martha's Choice's good works, as well as the ways they will utilize any donations that come in. The pair maintain a laidback and sometimes humorous attitude throughout the song. Eli joked:
"Now, we will graciously accept your one-time, one million dollar donation," Wenger said with tongue in cheek. "But we are also more than grateful for your $5 a month."
The Choice model
According to its website, Martha's Choice Marketplace, sponsored by the Archdiocese of Philadelphia, serves more than 1,000 families and 3,500 individuals each month, while distributing over 1 million lbs. of food yearly. The pantry serves the community as a whole and encourages people of all faiths and backgrounds to seek its services if in need. To this end, Martha's Choice labels their shelves with English, Spanish, and Arabic tags.
And unlike many food pantries, Martha's Choice, allows its clients to choose their own groceries, in the same way that they would in a grocery store. In this way, respect is shown to the recipients, and they are also afforded the option to choose food that reflects their dietary needs and cultural preferences.
Learn more about Martha's Choice Marketplace here.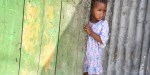 Read more:
North Carolina parish raises enough money to send 240,000 pounds of food to poor