The great leaders in the Church have a lot in common with entrepreneurs, and this program wants to harness that energy to renew the Church.
What happens if you combine a successful financial career with a deep faith rooted in Carmelite spirituality? The answer to that question comes from a man who knows a lot about both, and he's using that experience to build a network of Catholics committed to publicly living out their faith and renewing the Church.
John Cannon had spent 5 years working in the financial sector, earned an MBA from Harvard, and was working in consulting when he experienced an intense conversion. He spent the next 7 years in Carmelite monasteries discerning a religious vocation. When he left the Carmelites about a year ago, "I felt called to integrate spirituality with business," he said in an interview with Aleteia.
While with the Carmelites, Cannon engaged in a life-changing project. He spent a year researching commonalities among 50 leaders in the Church—people like St. Benedict, St. Francis, St. Ignatius, St. John Bosco, Dorothy Day, Chiara Lubich—and studying how they spread the Gospel so effectively. "I looked at patterns of how the Holy Spirit has renewed the Church," he said.
What he found surprised him. These great saints had an astonishing amount in common with entrepreneurs who start their own businesses. Usually without specialized training, they found innovative approaches to address the human and spiritual needs of their time and place.
"They were prayerful and close to God, but super entrepreneurial," he said. "They looked at the needs around them and tried to solve problems. I started seeing the renewal of the Church in this way."
Inspired by these "Entrepreneurs of the Spirit," Cannon set out to develop a support network for Catholic entrepreneurs, apostolate leaders, and small business owners, called SENT Ventures. The team at SENT Ventures believes that the kinds of holy men and women who renew the Church—leaders who practice creative problem solving and adherence to the Holy Spirit's guidance—are very much present in the world today. A little guidance and mentorship can make all the difference in their success—and their success benefits the whole Church.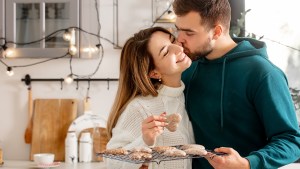 Read more:
Nonprofit combines deep ministry knowledge with "big data" to strengthen marriages, with incredible results
Starting a business, much like starting a ministry or apostolate, can be an isolating experience filled with unforeseen hardships. "Lack of community and support is the biggest challenge for many entrepreneurs, even more than fundraising," Cannon said. "It can be very lonely."
Of course, community is a central part of living out faith as well as staying the course in starting a business, but it's not always easy for Catholic entrepreneurs to find. "In Silicon Valley and almost every other sector of the economy, there are massive support networks for social and entrepreneurial ventures," he explained. "We're building those support networks for innovative Catholic initiatives and businesses."
Members in SENT communities can participate in the following opportunities:
One-year fellowship with partner network of other CEOs, founders and leaders
Coaching and mentorship from experienced entrepreneurs
Business and goal setting guidance
Strategy sessions to solve major challenges, whether personal, professional, or spiritual
Workshops with various experts on topics ranging from fundraising to contemplative prayer
"The program is designed to help entrepreneurs holistically grow their businesses while remaining rooted in faith and sustaining their mission," Cannon said. There is an application process to join a yearly cohort, and applications are due December 4 for next year.
As an "intersection of leadership, entrepreneurship, and spirituality," SENT offers a unique experience for Catholic business owners. Current members include Exodus 90, Hallow, Catholic in Recovery, Catholify, Impact Beta, and Mission Advancement Partners, among others.
More than anything, the initiative's goal is to bring the energy and momentum of entrepreneurship to spreading the Gospel message.
"If you look at the lives of Church leaders, they didn't set out to start big movements but to meet the needs around them, rooted in love and in the Gospel," Cannon said. "Look at a need around you and ask, 'How can I address this?' I hope if you are thinking of starting a venture, or you have a company, and you want to integrate your faith into that, we'd love to support you in that journey."
Read more:
8 Business-owner saints to turn to when suffering economic worries