The Daughters of St. Paul join the global movement that started at the beginning of the COVID-19 epidemic.
On November 5, the Daughters of St. Paul in Africa responded to the #Jerusalema dance challenge that started in February 2020 as a way to raise spirits during the COVID-19 pandemic.  It's a dance challenge Aleteia first covered back in July when Italian friars were dancing in the streets. 
Since then, the movement has gained a lot of traction, sweeping the globe as the challenge is being met in schools, airports and hospital parking lots by students, nurses and ordinary folk all over Africa, Asia, Europe and in The United States).  
The powerful song, written by the South African artist Master KG, when translated from Zulu has a timeless Christian theme — noteworthy for a mainstream hit that's won multiple awards.  With lyrics like "Jerusalem is my home" and "my kingdom is not here" and an ethereal, often repeated chorus of "save me" (ngilondoloze), the message is clear — as Christians, we are sojourners in this life, yearning always for our eternal home.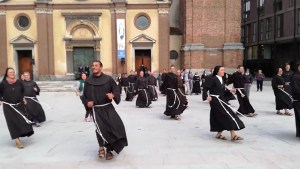 Read more:
Watch these Italian friars and sisters take to the streets to dance (very impressively)