Pope Francis has announced the day's observance will be adjusted to meet pandemic restrictions.
As Italy tightens social restrictions in response to a surge in COVID-19 cases, the Vatican has announced that the Fourth Annual World Day of the Poor is still scheduled for November 15, but will be be modified in light of the global pandemic.
Catholic News Service reports that the Vatican will not be setting up a mobile health clinic in St. Peter's Square, as they have for the previous three iterations of the World Day of the Poor. Instead, they will open smaller health units on the outskirts of Rome in order to limit the size of the crowds. At all locations, health workers will offer free HIV, hepatitis-C, and COVID-19 tests to those in need.
The annual luncheon with Pope Francis, which has fed as many as 1,500 in the past, had to be canceled. The food, however, will still go to those in need as the Vatican has prepared 2.5 tons of pasta to be sent to soup kitchens around the city. These donations will be bolstered by an additional 5,000 care packages, bound for families in need. CNS noted that these packages contain name brand foods, masks, and a prayer card from Pope Francis.
Year of the mask
In addition to the food and medical aid, this year the Vatican has readied 350,000 face masks to be distributed to around 15,000 students from low-income families. Archbishop Rino Fisichella, president of the Pontifical Council for Promoting New Evangelization, noted that he hoped the masks would encourage youths "not to underestimate the risks of the pandemic, especially with behaviors that could be harmful once they return from school to their families with the presence of elderly people."
The annual World Day of the Poor Mass, which had been planned to be celebrated by Pope Francis in St. Peter's Basilica, was also changed to a live-stream format. The Mass will be viewable via Vatican News on November 15.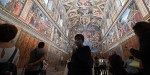 Read more:
Vatican closes museums again as COVID-19 cases rise in Italy