What I learned from my birth became my key to lasting peace as a mother.
What can God do in your life with one Bible verse a day?
Subscribe to Aleteia's new service and bring Scripture into your morning:
Just one verse each day.
Click to bring God's word to your inbox
I'll never forget the shock that came with having my first baby—and the lasting spiritual lessons it taught me.
I was planning a water birth with a supportive team of midwives, and like a typical overachiever, I had done everything "right" to prepare. I took all my vitamins, did daily stretching exercises, attended hypnosis for childbirth classes, read endless birth books, and hired a doula. But then I had to actually give birth.
After days of labor, hours of pushing, and trying every trick my doula and midwife could think of, the baby was "stuck," and a c-section became the only remaining option. I was devastated. All my life, I had absorbed the lesson that things would go the way I wanted as long as I put in the prep work. From grades in school to application essays to dream jobs, I'd always been successful if I tried my hardest.
Motherhood, however, was something altogether different. I had given childbirth all I had to give, both mentally and physically; I had "studied" and "drilled" as much as I could; yet I felt that I had "failed the test."
With time and perspective, I came to see how misguided it was to see a c-section as a failure, but it was hard to shake that feeling for some time. I found myself wondering if I should have done something differently, and if the outcome was somehow my fault.
But as I began to make "mom friends" and talked to them about their experiences, I learned that I was far from alone in finding a disconnect between my expectations of motherhood and the reality. These are only a handful of many examples:
One friend had pre-eclampsia that resulted in a pre-term birth and difficult NICU stay
Another had cholestasis of pregnancy and had to have a sudden birth induction while she scrambled to find childcare for her older kids
One wanted badly to exclusively breastfeed, and tried everything possible, but was never able to because of a medical condition
Another counted on a straightforward birth with an epidural, but the hospital was unusually busy when she arrived in active labor, and she ended up having to give birth unmedicated without any preparation at all
As I listened to each of these stories, I came to see that each of us could attest to the same realization: Some part of motherhood will not go the way you expect or want. This truth can be hard to accept, especially if you're used to having things work out well for you, but it's the most important thing I learned as a new mother, and the message that I hope all pregnant moms can know and take to heart.
Before that sounds too disheartening, let me assure you that knowing and trying to accept this truth has changed my life for the better. Understanding this unavoidable part of motherhood has taught me important lessons, on both the human and spiritual levels.
Read more:
Practical advice on how to discern God's will
Accepting our children for who they are
On the human level, understanding that parts of motherhood won't go as I expect helps me to go with the flow when my children act differently than I anticipate. Many parents struggle to accept their children for who they are instead of who we think they should be. Yet one of my favorite educators reminds me that "Children are born persons," with their own preferences distinct from mine, and an important part of parenting is getting to know our children as they really are.
By really knowing our children, we can guide them to become the best and holiest they can be. The first step in the process is letting go of our expectations for them, changing our mindset from construction to discovery, as we uncover who God made them to be instead of trying to make them in our own image. Accepting a birth or postpartum experience that doesn't go "according to plan" is the first step in this lifelong process of leaving our preconceived notions and assumptions behind.
Accepting God's will
Funnily enough, something else that may not go the way you expect or even want is God's will for your life. How many times have we protested some event that happened in our lives, unhappy with God for allowing it, only to realize later that it was the right thing for us at the time? An important part of spiritual growth and friendship with God is learning to accept and embrace His will, even when it doesn't match up exactly with what we envisioned for ourselves.
This spiritual truth was brought home to me during my first birth, when my midwife broke the news that I would have to have a c-section. Somehow in that chaotic moment, I recalled Christ's words in Scripture: "Not my will but yours be done" (Luke 22:42). I clung to those words and found strength in them.
At the time, I didn't realize that surrendering prayerfully to this sudden and unwanted change in plans was an act of interior growth. As I increasingly leaned into that prayer, however, and tried evermore to accept God's will over my own expectations, I found lasting peace. In this way, accepting the hardest truth about motherhood may also be the path to finding happiness and contentment in raising our children, and in many other areas of life.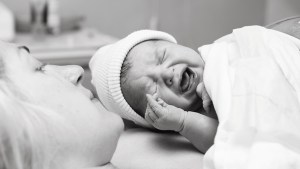 Read more:
When your baby's birth doesn't go as planned