The pope continues to reduce the Vatican's impact on the environment.
Vatican officials say they are planning to gradually replace their fleet of service vehicles with low-emission electric models. The move would be the latest in a series of initiatives meant to reduce the Vatican's impact on the environment, following the guidelines set by Pope Francis' encyclical on environmental conservation, "Laudato Si'."
In an interview with L'Osservatore Romano provided by Crux, Roberto Mignucci, director of workshops and equipment for the office governing Vatican City State, said that a fleet of electric vehicles would be ideal for the Vatican. One reason is that Vatican City is so small and its other off-site properties are relatively close by. The fleet is said to only accrue around 4,000 miles each year.
If the Vatican decides to make the change, they will also have to install charging stations at many facilities. These additions are just a part of a series of environmentally minded adjustments that the Vatican has made in recent years.During the papacy of Pope Benedict XVI, the Vatican saw the installation of 2,400 solar panels.
Mignucci did not specify whether or not the Vatican would seek a new electric model of the Popemobile. The current iteration of the protective parade vehicle, built by Toyota, uses a fuel cell system that works through a reaction between oxygen and hydrogen. This system is said to expel nothing more than water vapor, making it practically emission free.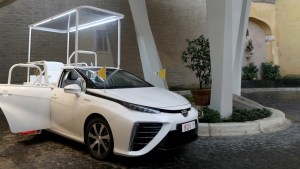 Read more:
Pope gets an eco-friendly Popemobile