A local businessman funded the project, which provided 2 dozen 8 ft. by 10 ft. homes for the needy.
The local parish of St. Mary's in Kitchener, Ontario, has completed a project that saw the construction of 24 "tiny homes." These new houses, each sized 8 ft. by 10 ft., will provide shelter for those in need during the first winter of the world pandemic.
According to a report by Catholic Register, the project began in order to provide temporary shelter and distancing during the coronavirus pandemic. Now, the success of the project and the positive feedback from those living in the tiny homes suggest that they may work better as a permanent solution. Fr. Toby Collins, pastor of St. Mary's, commented:
"Those who would stay outside in tents even during the winter choose this option because it gives them a great deal more security," said Collins. "They get a certain amount of autonomy at the same time with the tiny homes. They can screw things into the walls and paint, which allows for creativity and personalization."
This tiny homes project was the brainchild of parishioner Ron Doyle, a local industrialist who owns several large event spaces in the area. Doyle provided much of the funding and logistical organizing for the project, but for labor he recruited enthusiastic workers from St. Mary's and Holy Cross, the local Lutheran church.

These volunteers, mostly teens, can be seen in a series of videos

talking about their good works, the reactions of the recipients, and the impact the project had on them. One girl said:
"I didn't realize that it would be me who would be most impacted by this journey. Seeing them finished has taught me that there is something I can do and to have the faith of the Catholic Church behind you when you're working on a project, it is wonderful and amazing."
In order to transform these sheds into livable houses, workers installed windows, insulation, vapor barriers, fireproof walls, flooring, and painted the exteriors. Construction was conducted on St. Mary's property and the completed structures were transported to the lot where the 24 tiny homes make up  a miniature community. The parish encourages the recipients of the houses to modify them to their liking, via painting or decoration, but one man was said to have been so excited that he built himself a porch.
Doyle noted that there are still several people living in tents on the property, where he hopes to construct several more homes before Christmas. Doyle, who owns the lot where the houses now stand, continues to pay the residents' utility bills and he is expected to fund the majority of expenses for any new homes they build. Each tiny home is said to cost about $5,000.
Learn more about the tiny homes project here.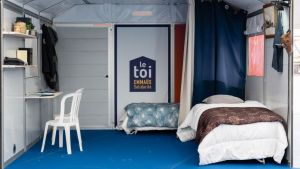 Read more:
New invention makes safe and dignified shelter possible for the homeless and refugees