The saintly princess converted her own castle into a hospital to address the increasing number of sick and suffering.
St. Elizabeth of Hungary noticed a problem in her kingdom: the sick and suffering weren't being adequately cared for. This created great anguish in her heart and she did not delay in establishing more healthcare facilities to address the overflow problem.
In fact, she went so far as to convert her castle into a hospital!
This is related in a letter of Conrad of Marburg, St. Elizabeth's spiritual director.
She ordered that one of her castles should be converted into a hospital in which she gathered many of the weak and feeble. She generously gave alms to all who were in need, not only in that place but in all the territories of her husband's empire. She spent all her own revenue from her husband's four principalities, and finally she sold her luxurious possessions and rich clothes for the sake of the poor.
Yet, even this did not address the number of people who were sick and suffering. Author Charles Forbes explains in his early 20th-century biography, Life of Saint Elizabeth of Hungary: Duchess of Thuringia, how she made sure each bed was used and then opened new hospitals to address the healthcare crisis.
The sick who required especial care she placed in the hospital, having twenty-eight beds … which she had established on the side of the mountain on the road to the castle; as soon as one of the inmates died, his bed was at once taken by another who was admitted. She afterwards established two new hospitals in the city 

of 

Eisenach, one under the invocation 

of 

the Holy Ghost, near 

the 

gate St. George, for poor women, the other under that 

of 

St. Ann, for the sick in general. The last is still in 

existence

. 
Not only that, St. Elizabeth herself cared for these sick people, daily visiting the hospital.
Twice a day, morning and evening, without fail, the young Duchess went down and up the long rugged mountain path which led from Wartburg to these hospitals, despite the fatigue which it caused her to visit 

these 

poor people, and to bring to them articles both 

of 

necessity and comfort. Having entered these abodes 

of 

suffering, she went from bed to bed asking the sick what they wanted, and rendering them the most 

repulsive 

services, with a zeal and tenderness which the love 

of 

God and His special grace could alone have inspired. She nursed with her own hands those who were afflicted with the most disgusting diseases, made their beds herself, lifted them and carried them on her back or in her arms to other beds, and wiped their face, their nose, and mouth with the veil she wore on her head.
St. Elizabeth is a true inspiration, especially for all healthcare workers, nurses and doctors. Her example of selfless charity is worthy of imitation, and the way she managed hospitals focused on the patients' needs is a reminder to us all of what is most important.
Above all, she saw Jesus in the sick and served each individual as if they were Jesus Christ.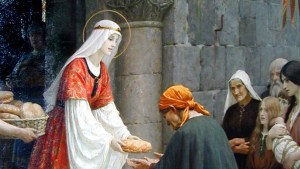 Read more:
The princess saint whose life can inspire young people today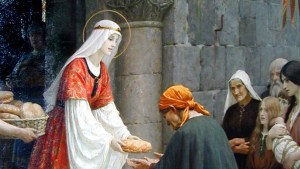 Read more:
The sweet-smelling miracle that saved a princess who became a saint