The island nation has experienced five tropical storms in just three weeks.
During his November 15 address, Pope Francis acknowledged the suffering of those affected by recent flooding in the Philippines. The pope's comments came after the island nation experienced five tropical storms in just three weeks, laying to waste countless homes and displacing tens of thousands. The most recent, Typhoon Vamco, has destroyed an estimated 26,000 homes and left 67 dead, with more still missing.
According to Catholic Philly, Pope Francis mentioned this string of natural disasters during his Angelus address on the World Day of the Poor. He remarked:
"I express my solidarity with the poorest families who have been subjected to these calamities and my support to those who are trying to assist them."
Record-breaking floods
A report from Yahoo News cited the flooding as the worst in 45 years. In the province of Cagayan, a damaged dam exacerbated flooding. It is estimated that the dam released roughly two Olympic-sized pools of water per second. The flood levels have broken the nation's record of 72 feet, set by Typhoon Ketsana in 2009.
In Marikina City, to the south, the currents on the streets are too strong for rescue boats.  Mayor Marcelino Teodoro noted that the city hall, where emergency supplies are stored, has also flooded. As part of an appeal for government aid, he said:
"Local authorities in Marikina City cannot conduct rescue efforts alone. Given the weather, we need air support. People are on their rooftops waiting to be rescued," Teodoro told reporters.
Catholic Philly went on to note that aid workers from Caritas and its U.S. partner, Catholic Relief Services, were already on site to help in the wake of Super Typhoon Goni. Goni, the world's strongest typhoon of 2020, laid to waste many areas of the Philippines. It is estimated that nearly 300,000 homes were destroyed by Goni, leaving tens of thousands still displaced.
Across the country, rescue efforts are underway, but officials are wary that more destruction may be on the horizon. Monday morning, reports arose of a magnitude 6.1 earthquake shaking the ground under Cagayan.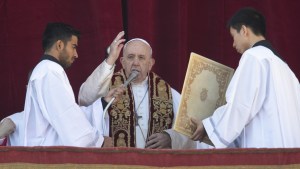 Read more:
Pope prays for victims of Christmas Day typhoon in Philippines