Stocking up on essential supplies is important, but the state of your soul should take priority.
The events of 2020 have spurred another wave of apocalypse prepping. People around the world are amassing supplies and making sure that their home is apocalypse-proof. They do this to ensure their own survival when the world explodes in disarray.
What is a Catholic to do? Should we start preparations for the end of the world?
While to a certain degree it is appropriate to stock up on essential supplies in case a crisis occurs that prevents us from leaving our homes, we need to focus first on our spiritual well-being.
Jesus spoke about this plainly when he warned his disciples of future apocalyptic events.
You will hear of wars and reports of wars; see that you are not alarmed, for these things must happen, but it will not yet be the end. Nation will rise against nation, and kingdom against kingdom; there will be famines and earthquakes from place to place. (Matthew 24:6-8)
He didn't urge them to stockpile toilet paper, but to be prepared for the judgment of God.
Therefore, stay awake! For you do not know on which day your Lord will come. Be sure of this: if the master of the house had known the hour of night when the thief was coming, he would have stayed awake and not let his house be broken into. So too, you also must be prepared, for at an hour you do not expect, the Son of Man will come.(Matthew 24:42-44)
Jesus follows up this warning by illustrating the need to be prepared spiritually, as a servant is prepared for the return of his master.
Who, then, is the faithful and prudent servant, whom the master has put in charge of his household to distribute to them their food at the proper time? Blessed is that servant whom his master on his arrival finds doing so. (Matthew 24:45-46)
Above all things, prepare for future disasters by being a good servant of God in the present moment. God could call you home today, or tomorrow.
Are you prepared?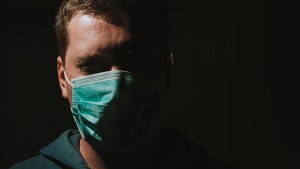 Read more:
What the coronavirus signals about the "End Times"
Read more:
Saint Therese: Herald of the Apocalypse?