If you want to overcome bad habits in your life, you need to form good ones to counteract them.
Have you ever wanted to break a bad habit, or stop a particular sin you keep on committing? While stopping "cold turkey" is one way to do it, a more effective method is counteracting the bad habit with something good to replace it.
St. Francis de Sales details this method in his Introduction to the Devout Life, explaining that the first step is recognizing what you want to change.
Examine from time to time what are the dominant passions of your soul, and having ascertained this, mould your life, so that in thought, word and deed you may as far as possible counteract them.
After figuring out what you need to change, then start by committing to positive habits, even if you don't feel like it.
Do as many lowly, humble deeds as lie in your power, even if you perform them unwillingly at first; for by this means you will form a habit of humility, and you will weaken your vanity, so that when temptation arises, you will be less predisposed to yield, and stronger to resist.
Simply avoiding bad habits will only get you so far, as it will create a void in your life. You will be more likely to fill that void with the bad habit you are trying to stop.
On the flip side, if you fill that void with something positive, your likelihood of repeating it will go down significantly and in turn, you will begin forming good habits that will endure.
Whatever you do, make time to reflect on your bad habits and form a strategy that will help you fight those temptations when they arise.
In a word, let your time of peace, — that is to say, the time when you are not beset by temptations to sin,–be used in cultivating the graces most opposed to your natural difficulties, and if opportunities for their exercise do not arise, go out of your way to seek them, and by so doing you will strengthen your heart against future temptations.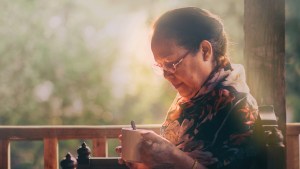 Read more:
Avoid bad habits with this quick morning spiritual exercise
Read more:
Resist the "sadness of the devil" with these two habits