Dressing a changing body can be tricky, so stock up on these basic pieces to stay comfortable in the cold.
Being pregnant in the winter can seem like a relief compared to summer pregnancies. Carrying the extra baby weight is a lot more comfortable during the chilly months!
But winter pregnancies come with challenges too, such as taking care not to slip on icy sidewalks and steps, and finding a way to feel comfortable at varying temperatures. Choosing the right clothing helps take your mind off these concerns, so you can focus on preparing for your baby and enjoying this special time.
Here are some suggestions on what to buy if you're pregnant in the winter, and what you might already have in your closet.
What to buy
Long tees and tanks, whether specifically "maternity" or just a larger size than you usually wear, will be your staples this winter. Dressing in layers is key to staying comfortable in changing temperatures (just take off a layer or add it back on!), and it all starts with this comfortable base layer. Try a few brands to find your favorite, then stock up!
Structured pants are a must if you're going into work or any other occasion that calls for "real clothes." One or two pairs of maternity pants will carry you through the winter, so choose something versatile. Black denim is a natural choice, since it can be dressed up or down.
If most of your non-maternity pants are structured, you'll also want some lounge pants and leggings, either "maternity" ones or simply a larger size. Bonus, you can keep wearing these in the postpartum period too!
A belly band or pants extender is the unsung hero of the pregnancy wardrobe. It allows you to keep wearing your regular pants well into second (or even third!) trimester.
If you're experiencing lower back pain or swelling in your legs, you'll want a pair of maternity compression tights or leggings. They make a big difference, giving you the support you need, and you can see some great options here.
A fleece or down jacket that fits your changing body will keep you cozy and comfortable. These can get pricey, so you might want to buy one secondhand (in-store or online), borrow one from a friend who recently had a baby, or use an ingenious extender panel with your regular coat. My go-to is stealing, I mean borrowing, a fleece jacket from husband; you also might look for a loose, over-sized jacket in the men's department. This coat can do double duty after the birth for keeping your baby warm in a front carrier next winter!
Hydrating moisturizer and lotion isn't just a nice extra during a winter pregnancy, but a necessity. The cold air dries out your skin just as it's being stretched and changed by your growing baby, so grab yourself some pregnancy-safe lotions for face and body, and slather on that good stuff!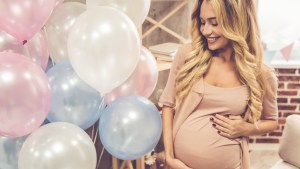 Read more:
How to host a "social distancing" baby shower
What to shop your closet for
A great pair of winter boots will give you the most stable, secure footing on the ice and snow. This is one time to go for the most sensible footwear you can find!
Waterfall sweaters, cardigans, ponchos, and blazers all work wonderfully over a maternity tee or tank, and you can wear them throughout your entire pregnancy. Score!
Loose pants, such as leggings, joggers, or sweatpants, can fit comfortably for most or all of your pregnancy.
Scarves, hats, gloves and other accessories are wintertime staples, and fortunately you don't need anything different during pregnancy.
Earrings, necklaces, and other jewelry instantly classes up any look, and help you feel put-together all winter long.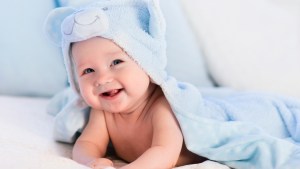 Read more:
5 Things not to put on your baby registry