It's a great way to find community right now and enrich your life.
What can God do in your life with one Bible verse a day?
Subscribe to Aleteia's new service and bring Scripture into your morning:
Just one verse each day.
Click to bring God's word to your inbox
The Catholic small groups I've been a part of throughout my life have done two life-changing things for me. First, they've given me a sense of connection and new friends during times in my life when I felt disconnected and alone. Second, they've inspired me in my faith not only by me new things to think and pray about, but also by reassuring me that there are other women out there who believe what I do.
If you haven't been fortunate enough to experience a good small discussion group of Catholic women, now is the time. I know it's almost winter, in the midst of flu season and COVID. How is it possible to join a group when most people can't meet in person and the groups you were already part of have stopped meeting? Well, it just means it's time to start a group of your own. Do the planning and lay the groundwork now, and you can plan to have your first session after the holidays. Here's how to do it.
First, find people.
If you have a few friends who might be interested, ask them first. Then you can all branch out from there and invite people you know to come.
If you don't have a couple of people to start with, then you can be a trailblazer and ask to use your church's resources. Inquire about whether you can advertise your group in the parish bulletin, Facebook page, parish email blast, and anything else your church uses to get news out about activities. If you are not already sure what material you want to cover in the group and where and when you'll meet, solidify those things first, and then circle back to asking people.
Next, pick a time and place.
Depending on people's comfort level and the city you live in, you may need to use an online platform. Pick your favorite video meeting tool, and set up a time that would work for most people. 7 p.m. to 8 or 8:30 pm on a weeknight is usually a good time and length to start. If people are comfortable, you can meet sitting six feet apart in someone's home with masks on, or in a parish facility with a similar setup if you can get permission.
Then, pick discussion material.
I have found the studies at Endow and Blessed Is She very fruitful. Both companies produce book studies that are excellent for discussing many aspects of the Catholic faith in an engaging way, and help meet women wherever they are in their faith life. You can read the chapter or section of a chapter from each study together at the meeting, so there's no need for homework. Alternatively, there are also some great video Bible studies on Formed that could work well (many parishes have a free subscription to this Catholic video platform, so check with your parish).
Tips for meetings …
When you actually meet, spend some time getting to know each other better before diving into the material. Having every one share highs and lows from their week is a good way to make sure each person gets a chance to speak, as well as learning something meaningful about each other's lives. This will enable people to be more comfortable with sharing during the time for discussion. After this, start with a prayer, and then read or watch the material.
When it comes to the discussion questions about what you've read, don't be afraid of awkward silences. Someone will talk at some point, and it's important to encourage everyone to share. End the discussion with a prayer and be respectful of people's time by ending on time. If it seems like everyone enjoys talking and wants to make the meetings longer, you can discuss that down the road.
It may seem like now is the worst time to start a group, but if you can find a way to do it socially distanced or over video chat, it may actually be the perfect time. People need connection and depth in their lives when so many things aren't normal. Let's fight isolation with community.
Mary, mother of the holy family, pray for us.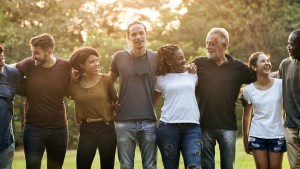 Read more:
Craving community? Let St. Lydia be your guide