The Vatican's Christmas season celebrations will be live-streamed, as they were during Easter.
The Vatican has announced that Pope Francis' Advent and Christmas Masses will be live-streamed in 2020. The move comes as the Italian government tightens social restrictions in response to a surge in COVID-19 infections. Just weeks ago, Pope Francis ordered Vatican museums closed and moved his general audience back online.
National Catholic Register reports that Christmas Masses celebrated by Pope Francis will still take place at St. Peter's Basilica, but before a very small gathering. While in-person participation is limited, more faithful than ever will have the opportunity to attend Vatican Masses from home. The holiday season's liturgies will be transmitted live from the Vatican News website.
The announcement did not specify when these renewed restrictions would end. If they last until the end of the Christmas season, then Pope Francis could be live-streaming his Mass celebrations until the Feast of the Presentation of the Lord, in February. It is likely that the decision to reopen the Vatican will be dependent on the state of the world in the new year.
Keeping the Christmas spirit
In a bid to maintain some level of normality, the Vatican will still display its annual Christmas tree and Nativity scene. Wanted in Rome reports that the lighting ceremony for this year's tree, a 28-meter-tall spruce, will take place on Friday, December 11. According to CNA, the Nativity, called the "monumental Nativity scene of the Castelli," will feature larger-than-life sized figures of the Holy Family, the Magi, angels, and more.
In a press release provided by CNA, Vatican officials said of the Nativity:
"[The monumental Nativity scene of the Castelli] not only represents a cultural symbol for the whole of Abruzzo, but is also considered an object of contemporary art that has its roots in the traditional processing of castellana ceramics." It continued, "This year, even more than usual, the setting up of the traditional space dedicated to Christmas in St. Peter's Square aims to be a sign of hope and faith for the whole world."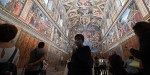 Read more:
Vatican closes museums again as COVID-19 cases rise in Italy