Opportunities to spread kindness and goodwill are all around, as this thoughtful little boy shows us.
Six-year-old Blake Durham told his mom that he "wanted to do something kind" and make someone else happy. He was sitting next to her in the car waiting to get breakfast from the drive-through at McDonald's, in Stockton-on-Tees, UK. To do a kind deed, he asked his mom to pay the bill for the driver behind them.
This little act ended up causing a chain reaction of kindness, as the drivers—surprised by the gesture—decided to join in. Each paid for the car behind them, leaving a smile on everyone's face, especially that of young Blake, who had seen his generous wish fulfilled. A good deed is not only important for the one who receives it, but also for the one who gives it!
PAY IT FORWARD: Blake Durham, 6 sparked a chain of kindness when ordering breakfast at McDonald's drive-thru, he told his mother he wanted to do something kind. He told his server he would buy food for the man in the car behind. Everyone in the queue then followed suit. pic.twitter.com/vwQcbLzczh

— Apex World News (@apexworldnews) November 20, 2020
His proud mother, Amy Durham, explained to British news outlet Gazette Live how, within minutes of making that simple gesture, they learned what a great effect it was having. "We had to wait in a bay for our food and when we did the lady came out and told me everyone was now paying for the car behind and they are so happy and smiling," she said.
"It costs barely anything to be kind," Amy told Gazette reporter Anna Twizell, and as we can see, the result is very positive. Buying someone's breakfast is only one of many ways to do be kind to others; we can simply smile, or perform some other small act that shows affection, courage, consideration or respect for someone. It reveals a generosity of spirit that strengthens both body and soul.
Those who live with kindness not only report being happier people in general, having a healthier heart and building better relationships with others, but they also are proven to become increasingly benevolent with practice. The more actively we think about and act on our good intentions, the deeper those effects may be.
When someone is good to others, without expecting anything in return, it creates many positive effects. The more kindness you show, the more likely you are to continue that kind behavior because it's so intrinsically rewarding. Practicing kindness not only makes us more kind; it touches other people and inspires them to be kind, too.
Little Blake reminds us how important it is not to forget those small acts of kindness in everyday life. We don't need to have a lot to give materially speaking, or even feel like being kind, or wait until we "have time." We can always take that step with a voluntary act and transform the day into a special and more beautiful one for someone else. It helps if we get up in the morning with that purpose in mind.
Read more:
The unsolicited act of generosity that made my day
What happened at that McDonald's location in Stockton soon began to inspire other people, and the news spread to many international media outlets such as BBC Radio Tees, BBC's Look North and ITV's Good Morning Britain, among others. Who knows how many people have been inspired to be kind, thanks to that one gesture from Blake and his mom Amy!
His mother appeared in some of the reports, saying that her son Blake has been very ill, as he has epilepsy and has been hospitalized several times. His relatives say he is a very brave boy with a heart of gold. In spite of having gone through hard times, this boy hasn't lost his desire to make others happy. His example inspires us in the midst of a world where it seems as though it's no longer possible for people to leave aside our selfishness to do good to others. He reminds us that with a simple kind gesture we can break the barrier of egoism and make the world a better place.
In fact, Jesus showed his love not just with His discourses and His monumental sacrifice on the Cross, but also with simple acts of kindness that we throughout the Gospels. When Jesus wants to teach us how a Christian should be, he shows us through acts of mercy, forgiveness, and generosity, feeding the hungry and healing the sick. Love is manifested by good works.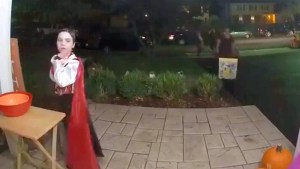 Read more:
A home security camera captures a young trick-or-treater's inspiring act of kindness