Many are linked to the Christian faith.
With winter closing in, most of us find ourselves reaching out for a warm sweater. And what could be cozier than one that provides both warm and meaning? If you're fortunate to own a cozy Aran pullover you may know that it traditionally comes from the Aran Islands on the west coast of Ireland, just off Galway. But you may not realize the charming details that gives this thick knitted sweater both religious and romantic significance.
A Holy Communion gift
Young islanders receiving their First Holy Communion were often gifted an Aran sweater. They would then wear it afterwards to Mass on Sundays.
A sign of love
When a young Irish man started courting, the young lady in question would spend hours knitting away to produce a sweater for her intended. The intricacy of all those stitches was a sign of her love. The skill taken to produce such a garment also showed the woman's ability as a future homemaker. The finished sweater would then be donned by the groom on his wedding day.
An appearance in The Book of Kells
Although knitting experts disagree on this particular point, some believe that the Aran sweater was featured in the Book of Kells, a famous illuminated Latin manuscript. The beautiful collection of Gospels, prefatory texts, and tables was created in the 8th century in Ireland or Britain by a Columban monastery, at a time when Christianity was widespread throughout the land. The Book refers to a knitted garment with intricate patterns, the same designs that are knitted in the Aran sweater today, and which can be found on many religious monuments throughout Europe.
Meaningful stitches
One of the main knits that can be found in the sweater is the cable stitch. This is for all the fishermen who risk their lives, as the cable knit is sewn in as a prayer to protect the fisherman, as well as to bring luck for a good haul. Tradition has it that fishermen would wear the pullover as a form of protection against the dangers of the sea.
Another popular stitch in the sweater is the blackberry stitch. This pattern represents nature and is also known as the trinity stitch, which gives it religious significance. There are a number of other meaningful stitches that send messages to the wearer. But the Jacob's Ladder stitch is one that is said to signify the islands working together.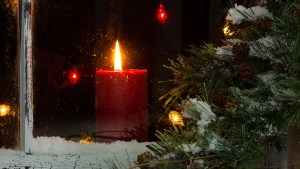 Read more:
10 Irish Christmas traditions you might want to adopt