It's a season of waiting but a call to live fully with joy in the present moment.
With the arrival of Advent, we're at the beginning of the end of the calendar year 2020. The prevailing sentiment seems to be good riddance, and the consensus is that we're all ready for a fresh start. I have to admit, I've had a fine year personally, and am always suspicious of how each year, as we are living it, is always loudly proclaimed to be the worst ever. I've lived 39 trips around the sun now and have enjoyed them all. However, I do share in the hopeful sentiment that, whatever the next year brings, it will be better than the last.
Contemplating letting 2020 go is a bittersweet thought. My children will never be this age again. The skies will never quite shine the same way, with that same quality of 2020 light. Thinking about this past year brings memories of stress and anxiety, to be sure, but mostly joy. For others, memories of this year may be even better than mine, or they might be far worse. Whatever our various experiences may be, this past year has been incredibly difficult for many people. To be bluntly honest, every single year brings with it an unfair share of misfortune for a certain number of people. At times like these, when the wheel of fortune brings suffering our way, we instinctively reach for the past or the future. The sentiment is that maybe next year will be better. Maybe we can eventually get back to normal, to the way it used to be. Anything to escape the present moment.
What I've noticed over this past year, though, is that the desire to escape from our present circumstances has unhinged us from the passage of time through our days. We're stuck living in the dead past or dreaming of an imagined future. I can sense the restlessness that this has caused – everyone feels as though life is on pause. This reality brings with it a listlessness and lack of motivation, as if we're saving all our energy for some brighter tomorrow that never arrives.
Of course, living this way is deeply unsatisfying. The poet T.S. Eliot diagnoses the problem in his poem Burnt Norton when he points out, "If all time is eternally present/ All time is unredeemable." The reason why, he says, is that it reduces everything to abstraction or possibility. We never actually live in the present moment. It's a shadow life.
Today, on the first day of Advent, your priest's homily may contain the encouragement to slow down, to watch and wait for the coming of Christ at Christmas. I very much believe in this advice and have found that, in my own life, when I've managed to slow down and pay attention, time stretches out and my days not only feel longer but are also more fulfilling.
However, the idea isn't to give up on the present moment and wait for an imagined future. We aren't meant to simply run out the clock on 2020, and live for the sake of what comes next. We live to redeem this present moment. Right here. Right now. That's why we slow down. The beauty of Advent and Christmas is that they create vibrant traditions around these moments of waiting. These traditions support us like a scaffold supports a marble sculpture. They hold us up when we've had a hard year because they are ever the same, freeing us from the past and the future and allowing us to celebrate the present moment. This sounds theoretical, I know, but what I mean to say is that it doesn't matter what disappointments linger in my past or fever dreams of the future are stuck in my mind if, right before me, is an Advent wreath that I'm meant to light with my children while we sing O Come O Come Emmanuel, or if we're looking at an unadorned Christmas tree that we're meant to decorate as a family.
Towards the end of Burnt Norton, T.S. Eliot meets a bird who leads him through a drained pool, "filled with water out of sunlight." The bird then sings to him that time is not what we think. It is far more mysterious. A well-founded hope for tomorrow and a healthy nostalgia unite past and future into the present moment. We don't have to give up the past and future and pretend they don't exist. We don't have to act like this past year hasn't been extremely difficult. We don't have to live in denial about the challenges of the future.
What we're searching for is an act of love that cuts through it all. The past is what it is, for better or worse, the future unrealized, but love embraces it all. During Advent we await this act of love. At Christmas, we celebrate it. Our own interior act of love for the present moment draws us into a more permanent existence and helps us transcend time. Love has no boundaries. There's never enough of it, and even the smallest amount is infinitely valuable. This is how one, discrete act can set us free. It nestles within our experience of time and transforms it, lifts us up, redeemed and reborn into the present moment.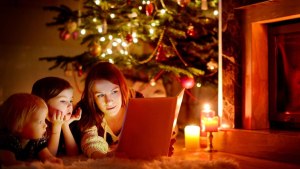 Read more:
5 Beautiful products to help your family live Advent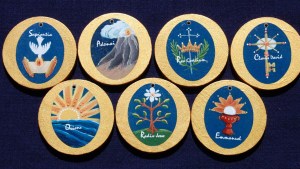 Read more:
The Great O Antiphons, an Advent tradition