The event will stream from Italy's Teatro Regio di Parma opera house, on December 12.
World renowned tenor Andrea Bocelli has announced a new Christmas concert. On December 12, Bocelli will live-stream the show, called "Believe in Christmas," from the Teatro Regio di Parma opera house in Italy.
Last Easter, when the world fell into the grasp of COVID-19, Bocelli brought comfort to millions with his "Music for Hope" concert. Now, the esteemed vocalist is trying to do the same for Christmas. "Believe in Christmas" comes on the heels of Bocelli's new album, Believe, from which the name of the concert was sourced. Bocelli is expected to perform selected songs from his new release along with seasonal favorites.
While the Easter concert had Bocelli sing in an abandoned Duomo di Milan, accompanied by only an organist, the Christmas concert may be more lively. This time, he will sing before a full orchestra and organizers have secured Cirque Du Soleil director Franco Dragonefor stage direction.
One day only
Another big difference between "Music for Hope" and "Believe in Christmas" is that the latter will be a one day only affair. Event organizers warn that the recording of "Believe in Christmas" will not be made available on YouTube after the initial broadcast. As there will be no in-person audience, the only way to view "Believe in Christmas" is to purchase a ticket to the stream. On the event page, they explain:
As befits such a special occasion this will be a one-off live event only. Ticket purchase to the livestream is the only way to see Andrea's performance in this extraordinary theatre.
In order to accommodate audiences globally, there are several streams, which will broadcast across multiple time zones. There are no restrictions on which stream audience members can pick. Time zones include: Europe/UK, South America, East Coast North America, West Coast North America/Central America, and Australia/New Zealand/Asia.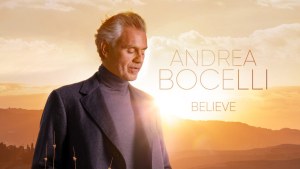 Read more:
Andrea Bocelli releases new album of sacred music