This heart-warming video also comes with some inspiring advice.
When Arthur Saunders recently turned 100, despite the pandemic he still managed to celebrate his birthday in style.  Considering his great age, the Irishman has borne witness to so many historical events, and his birthday celebrations can certainly be added to the list.
In the video below, you'll see the senior taking part in his drive-by birthday celebrations that were organized by his many friends and family. Among some of the "guests" were a few of his dancing partners. But what is adorable is to see his real affection and gratitude towards the participants. Among the beeping horns and the waves, the young-at-heart centenarian shared a few of his post-pandemic plans.
When the restrictions are lifted Saunders plans on going out for a "little jump around" and a pint in his local pub, as shared in the Irish Post. The sprightly chap is described as a "legend" by one of his seven grandchildren. And looking at the turnout, the gentleman who is loved by all those in his community, according to one of the locals, will no doubt have a drinking and dancing partner or two!
While it's inspirational seeing Saunders with such a joie de vivre, his recommendations for a long life are something we could all try to emulate. Quite simply he explains to just live your life, and "don't hate anyone." Incredibly, the peace-loving gent also shares how he's never had a row or argument with anyone in his life.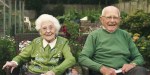 Read more:
Watch this inspirational elderly Irish couple talk about marriage and faith