Turkey holding violent refugees until it is politically expedient to unleash them on the Continent, Sakharov Prize nominee says.
What can God do in your life with one Bible verse a day?
Subscribe to Aleteia's new service and bring Scripture into your morning:
Just one verse each day.
Click to bring God's word to your inbox
A Christian leader who was nominated for the 2020 Sakharov Prize for Freedom of Thought has warned Europe about an increasingly entrenched radical Islam on the Continent. 
"We lost everything in Iraq and the Middle East. And I don't want France and Europe to lose everything in turn," Archbishop Najeeb Michaeel (also known as Najib Mikhael Moussa) of Mosul, Iraq, said in an interview with the National Catholic Register's Solène Tadié. 
Archbishop Michaeel was one of five nominees for the Sakharov Prize, named in honor of the Soviet physicist and political dissident Andrei Sakharov. The prize, which honors individuals and organizations defending human rights and fundamental freedoms, will be awarded December 16. 
Although Michaeel lost out to the Democratic opposition in Belarus, he took the opportunity of his nomination to "forcefully" warn the European Parliament of "a force of darkness" in Europe which is "embodied in people who are far from God, far from humanity and far from everything that constitutes the essence of religion."
He said that on recent trips to refugee camps in Turkey he has found "several thousand jihadists infiltrated into the hearts of families seeking to reach Europe." Turkey is "keeping all these people knowing that it will open the doors when it wants to," he charged. "The problem of migrants is not only humanitarian but also political. It is used for political purposes."
The aim of recent attacks
Referring to recent jihadist violence in France and elsewhere, such as the beheading of a school teacher in a Paris suburb or the killing of three people at Mass in Nice, the archbishop said there are countries that "want to invade and destabilize the political and human rights system in Europe in general" and religion is being used for this purpose "because it is the easiest way to wrap political actions." The aim of those engaged in this kind of violence is to destabilize Western countries on the security level so that Islam will indeed spread more easily, he explained.
Michaeel urged Europeans to root out radical Islam because it "cannot adapt to a country like France, whose three fundamental principles are 'Liberty, Equality, Fraternity.'"
He explained that jihadists are driven by a part of the Quran — the texts known as Medinan surahs — "which call for the creation of a single humanity, united by a single religion." Unfortunately, he said, the Medinan surahs have preempted the earlier  Meccan surahs, which include lines such as "Whoever kills one human being has killed all humanity" or oblige Muslims to respect the religion of others.  
"Most Muslims in Europe rely on these texts that predate Medina as a basis for integration, but in themselves, they are no longer valid, as they could not live according to these precepts in most of their countries of origin, from Saudi Arabia to Egypt," he said. "The Muslim Brotherhood, for example, completely rejects these precepts."
When Michaeel, 65, grew up in Mosul, sharia was not really applied, and 90% of women did not wear a veil, he said, but now harmful ideologies are returning and spreading in a lot of schools, even as far as Europe.
"And we let them," the archbishop complained. "These fanatical networks could not flourish if the different European countries enforced the laws."
Be welcoming but wary
Although Europe should maintain its fundamental Christian attitude of welcoming the outsider in charity, he said, it is imperative to "keep our eyes open and be realistic."
"We have to fight these ideologies through education and justice, to help Muslims free themselves from it because it disfigures the name of God," he said. "Terrorists have their own God who is not ours." Certain laws in Europe must be changed so that those who do not adapt to the mores of the host country can be sent back to their country of origin, he urged. "If their countries don't want them back, it proves that they are terrorists," he concluded. "In this case they must be cut off from their families or from everything that has fostered their radicalization and reverse the brainwashing they have undergone in rehabilitation programs. This is the only solution to protect European populations."
Michaeel agreed that the rejection by most European societies of their Christian roots accentuates the problem.
"Europe has made a mistake in cutting itself off from its spiritual and cultural roots because it has weakened it.
"A tree without roots to nourish it," he said, "will necessarily dry up."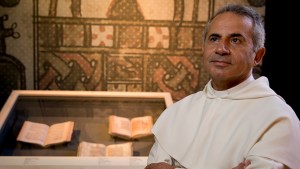 Read more:
Iraqi bishop who saved precious manuscripts nominated for Sakharov Prize