In customary greeting to Patriarch Bartholomew for feast of St. Andrew, pope says his hope is in common faith in Jesus, sent to gather all into one body.
As is tradition, Pope Francis sent a letter on this November 30 feast of St. Andrew the Apostle, to Patriarch Bartholomew, the Ecumenical Patriarch of Constantinople.
As the first apostle to be called by Christ, and the brother of St. Peter, Andrew is the patron saint of the Eastern Orthodox Church.
There is a customary exchange of greetings between the pope and patriarch, with the Bishop of Rome sending greetings on November 30, and the Patriarch of Constantinople sending greetings on the June 29 feast of St. Peter.
In today's message, Pope Francis noted how in addition to the challenges posed by the pandemic, there are still many places facing war and conflict.
He said that "conflict and violence will never cease until all people reach a deeper awareness that they have a mutual responsibility as brothers and sisters."
"In light of this," he said, "the Christian Churches, together with other religious traditions, have a primary duty to offer an example of dialogue, mutual respect and practical cooperation."
The pope said that he has experienced this fraternity firsthand in the various encounters he has shared with the patriarch.
He also made the observation that the desire for Christian unity was manifest in the Patriarchate of Constantinople "before the Catholic Church and other Churches engaged themselves in dialogue.
This can be seen clearly in the encyclical letter of the Holy Synod of the Ecumenical Patriarchate addressed to the Churches worldwide exactly 100 years ago. Indeed, its words remain relevant today: "When the several Churches are inspired by love, and place it before everything else in their judgment of the others and in relation towards each other, they will be able, instead of increasing and widening the existing dissentions, to lessen and diminish the same as far as possible; and by promoting a constant brotherly interest in the condition, the stability, and the prosperity of the other Churches, by their eagerness in watching what is happening in those Churches, and by obtaining a more accurate knowledge of them, and by their readiness to give, whenever occasion arises, a hand of help and assistance, they then will do and achieve many good things to the glory and profit both of themselves and of the whole Christian body, and to the advance of the matter of the union."
Pope Francis said that the growing relations of the Catholic Church and the Ecumenical Patriarchate is cause for thanking God, "even as we continue to yearn for the goal of the restoration of full communion expressed through participation at the same Eucharistic altar."
"Although obstacles remain," he added, "I am confident that by walking together in mutual love and pursuing theological dialogue, we will reach that goal. This hope is based on our common faith in Jesus Christ, sent by God the Father to gather all people into one body, and the cornerstone of the one and holy Church, God's holy temple, in which all of us are living stones, each according to our own particular charism or ministry bestowed by the Holy Spirit."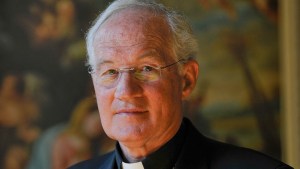 Read more:
Catholic, Orthodox, Protestant: All are Christians and all are being martyred