The esteemed choir, VOCES8, launches a digital platform for choral education.
The critically acclaimed vocal ensemble VOCES8 has launched a Digital Academy. The new platform will allow aspiring singers to continue their musical education during this time of social distancing. The program features month-to-month subscription plans for a variety of courses geared to students of all ages.
The VOCES8 Foundation website explains that the VOCES8 Digital Academy is an extension of the group's annual educational tour. Each year, the two world-class vocal ensembles work with more than 40,000 students as part of VOCES8's mission to inspire people through music. The Digital Academy will help the group continue this work while adhering to pandemic restrictions.
Of the VOCES8 Digital Academy, the foundation wrote:
At the VOCES8 Foundation we care passionately about a thriving choral music community, and we want to share that passion with you. The Digital Academy enables us to reach many more students, offering training and support for choral singers, educators and conductors. We're here to help your school, your community, your choir — let's keep making music together.
Courses offered by the Digital Academy utilize groundbreaking methods that allow the student to step into the role of a VOCES8 singer. Videos allow students to isolate their voices so that they can sing along. The array of offered class modules allow student to create their own courses of study and learn at their own pace.
Their educational resources includes VOCES8's catalog of sacred music, for which the group is famous. From interactive teaching videos, students will learn warm-up exercises, the VOCES8 Method, ensemble coaching, and more. Students will also have an opportunity to schedule one-on-one time with VOCES8 members.
Courses do come at a cost, but some are offered as free trials. As VOCES8 is accustomed to working with full choirs, they offer special group rates for ensembles.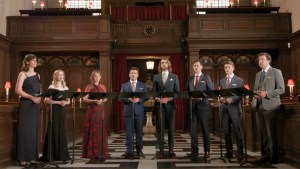 Read more:
VOCES8 will sooth your isolation anxiety with this prayer from St. Patrick