Francis says we shouldn't make a decision without praying this short invocation.
Pope Francis often shows his very practical spirit when he gives advice about prayer, as well as an affection for the short and simple when it comes to talking to God.
For example, he once recounted that he remembers a short, beautiful prayer taught him by his grandmother:
There is an ancient prayer – I learned it from my grandmother – which said: 'Jesus, make my heart more like yours.' It is a beautiful prayer. 'Make my heart more like yours.' A beautiful prayer, short …
He has asserted that just two minutes a day with the Gospel can change your life:
Why? "Because you will encounter Jesus. You are encountering the Word."
The Holy Father has shared simple habits that he uses to start his work day, saying for example, that when he gets to his office the first thing he does is pray to Our Lady.
He also has noted how he associates certain times of the day with particular meditations, for example:
"It is good for me," said the pope, "late in the evening, when I pray the Angelus, to pray [the] seven sorrows [of Mary] as a remembrance of the Mother of the Church," who, with so much pain, gave birth to all of us.
And he's drawn from the Gospel a three-word prayer that "gets God's attention":
The Gospel recounts the story of a leper who approached Jesus with a simple prayer: "Lord, if you will, you can make me clean." Pope Francis said this prayer, which is an act of trust, is a prayer that "gets God's attention." "It is a challenge," the Holy Father reflected, "but also an act of confidence: I know that He can do it, and so I entrust myself to Him."
Come Lord Jesus
In this first week of Advent, Pope Francis has offered another piece of simple advice for prayer, this time through Twitter. He invites us:
Let us frequently repeat the traditional #Advent prayer: "Come, Lord Jesus" (Rev 22:20): before meetings, studying, work, and before making decisions, in the important moments or times of trial: Come, Lord Jesus!

— Pope Francis (@Pontifex) December 1, 2020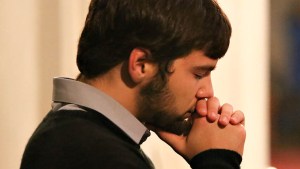 Read more:
Effective prayers that take less than a second