Discover the many connections between Noah and the coming of Jesus Christ and his Church.
Today is the third day in our set of meditations inspired by Jesse Tree Advent Tradition.
The concept comes from a passage in Isaiah, where the prophet says, "There shall come forth a shoot from the stump of Jesse, and a branch shall grow out of his roots" (11:1). Jesse is the father of King David, and Jesus was born into that same line of David through his foster-father's (Joseph's) ancestry.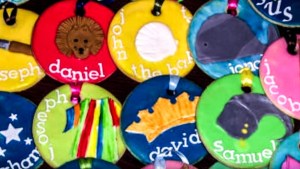 Read more:
Preparing for Christmas? Consider making a Jesse tree
Each day of December we will offer a brief Scripture passage and reflection, following God's marvelous plan of salvation in the Jesse Tree tradition.
Scripture
God said to Noah and to his sons with him: See, I am now establishing my covenant with you and your descendants after you and with every living creature that was with you: the birds, the tame animals, and all the wild animals that were with you—all that came out of the ark. I will establish my covenant with you, that never again shall all creatures be destroyed by the waters of a flood; there shall not be another flood to devastate the earth. God said: This is the sign of the covenant that I am making between me and you and every living creature with you for all ages to come: I set my bow in the clouds to serve as a sign of the covenant between me and the earth.(Genesis 9:8-13)
Reflection
Omitting therefore many passages in these Books where Christ may be found, but which require longer explanation and proof, although the most hidden meanings are the sweetest, convincing testimony may be obtained from the enumeration of such things as the following:That Noah, with his family is saved by water and wood, as the family of Christ is saved by baptism, as representing the suffering of the cross.  That all kinds of animals are inclosed in the ark; as the Church contains all nations, which was also set forth in the vessel shown to Peter. That clean and unclean animals are in the ark; as good and bad take part in the sacraments of the Church.That the whole ark together is finished in a cubit above; as the Church, the body of Christ gathered into unity, is raised to perfection. So Christ says in the Gospel: "He that gathers not with me, scatters." (Matthew 12:30) That the entrance is on the side; as no man enters the Church except by the sacrament of the remission of sins which flowed from Christ's opened side.That the flood came seven days after Noah entered the ark; as we are baptized in the hope of the future rest, which was denoted by the seventh day. (St. Augustine, Contra Faustum, Book XII)

Prayer

Stir up your power, O Lord,
and come to our help with mighty strength,
that what our sins impede
the grace of your mercy may hasten.
Through our Lord Jesus Christ, your Son,
who lives and reigns with you in the unity of the Holy Spirit,
one God, for ever and ever. 





Read more:
Aleteia's Jesse Tree – Day 2




Read more:
Walk with Mary this Advent as a sweet alternative to "Elf on the Shelf"