Evidence suggests records of his "giant" size may have been greatly exaggerated.
The legendary biblical battle between David and Goliath is commonly used to describe any underdog struggle. When two football teams of vastly different skill levels meet on the field, headlines are sure to bring up the biblical metaphor. Now a new study suggests that the scriptural author may have taken some metaphorical liberties with the narrative right from the start.
Science News reports that new research suggests that the biblical giant Goliath may not have been as massive as he was described. The findings of archaeologist Jeffrey Chadwick show a correlation between Goliath's recorded height and the thickness of the walls of the Philistine city of Gath. This has led experts to question if the records were accurate or a metaphorical representation of the strength of the Philistines.
A question of cubits
In the ancient world there were two standards of measurement: cubits and spans. A cubit is determined by the length of an average adult male's forearm, from elbow to fingertips, while a span measures the width of a spread hand from thumb to pinkie. As these measurements are based on the human body, cultures of different regions tended to have different lengths for their cubits and spans.
Chadwick's study revolves around the ancient world's use of cubits as a unit of measurement. Science News notes that the Egyptian cubit was 52.5 centimeters, while the architecture in Gath showed three different sizes: a long cubit of 54 centimeters, a short cubit of 38 centimeters and a span of 22 centimeters. Once he had identified the size of the apparent Philistine cubit, he realized the Gath wall was precisely as thick as Goliath was said to be tall.
At this year's annual meeting of the American Schools of Oriental Research, Chadwick presented his findings, commenting:
"The ancient writer used a real architectural metric from that time to describe Goliath's height, likely to indicate that he was as big and strong as his city's walls."
In a report from Live Science, Owen Jarus notes that Goliath is the only person whose height was recorded in any of the biblical narratives. In addition, it is most likely that the writer of Samuel did not have access to the body of Goliath after he was slain. With this in mind, it makes sense that the Jewish authors might have used the impregnable walls of Gath as a symbol for the might David faced and against which he prevailed.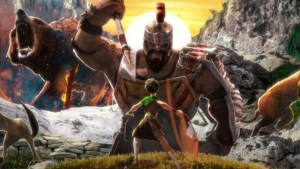 Read more:
Conquer Goliath in new Bible-themed VR game