Encourage a teen you love to grow in faith through these meaningful gifts.
Teenagers are at a tricky time of life, as they assert their independence yet still have so much to learn. When considering what's helpful for teenage Catholics, it's helpful to keep in mind these words from Dorothy Day: "Most cradle Catholics have gone through, or need to go through, a second conversion which binds them with a more profound, a more mature love and obedience to the Church."
As a parent, relative, or friend, what can you do to help your teen embrace this "second conversion"? These gifts can help! Whether you've got teens of your own, or want to buy something for a relative or godchild, there's something on this list for the teen you love.
Apparel and Accessories
Who knew a simple t-shirt could be a tool for the new evangelization? Your teen can wear his or her faith on her sleeve, and look great doing it, in a stylish and comfy Brick House in the City shirt or cardigan for the girls and guys (and here's our review!).
Enamel pins add instant flair to lapels, backpacks, tote bags and just about anything else. When they feature a favorite saint, like these from Studio Senn and Be A Heart Design, they can help your teen recall God's presence throughout the day.
A backpack or keychain looks better with a Tiny Saints charm that helps teens keep in mind the presence of their heavenly friends. You can find just about any saint included!
Rock a cool trucker hat with a Catholic message. Our favorite is the one that says Be Not Afraid in St. John Paul II's own handwriting!
For those times when they're toting school stuff, sports stuff, band stuff, or anything else, teens will find a thousand uses for a tote bag featuring handprinted images of the saints.
Upgrade their pen and pencil case with this soft zipper pouch reminding them to "Pray, hope and don't worry!"
These color-changing cups are as cute and fun to use as they are practical.
The Wanderlust Catholic Monthly Letter Subscription is a meaningful way to share the treasures of the faith with a teen you love, and who wouldn't love getting fun mail every month?
These really lovely Marian necklaces will keep Mary close to your teen's heart.
Find meaningful, cool jewelry and accessories inspired by faith at Pink Salt Riot.
Who doesn't love a cozy pair of socks? Even better if they help teens feel the presence of their heavenly patrons, thanks to the fun goods at Sock Religious.
Keep holy water close at hand for your teenager with this attractive amber glass bottle.
These rosary bracelets are not only genuinely beautiful jewelry, but also make it easy for young women to pray throughout the day.
A clear vinyl sticker featuring a holy image or prayer can go on a teen's laptop, phone, water bottle, travel mug, mirror, window, or anywhere else that they want a small reminder of God's presence.
These cute scrunchies and bandanas keep Our Lady and the saints on a teen girl's mind throughout the day.
St. Therese was known to use "sacrifice beads" to find little opportunities of serving others. Teens can imitate her example with their own beads set.
If your teen is behind the wheel a lot of the time, a steering wheel rosary will help him or her make the best use of that driving time!
Every morning is off to a faithful and wonderful start with these cute Catholic mugs.
Books to nurture faith
Every Sacred Sunday is a prayer journal based on the weekly Mass readings. It's both functional and beautiful, and draws readers closer to God through using it week after week. What a great way to invite teens into praying and contemplating God's Word!
Similarly, a Catholic Journaling Bible will help teens grow closer to Our Lord through Sacred Scripture. Writing down their prayers and reflections on faith is a meaningful process and will make this Bible one they'll treasure for years to come.
Every student needs a planner for homework and classes, and this mini planner from Blessed Is She is gorgeous and will help nurture a young woman's faith.
An icon or image of a teen's patron saint is a meaningful gift (we like the beautiful images of the saints from Light Bearer Designs), especially when paired with an engaging biography of the saint.
Encourage a growing prayer life with the Holy Heroes spiritual journal or a Mass journal designed to help young people engage with Scripture and spend time in prayer.
This Catholic growth mindset journal helps teens face life head-on, while the Be Yourself! journals (one for girls and one for boys) help young people understand their identity and purpose as children of God.
Teens often do their best thinking (and praying!) when their hands are occupied, and this Adoration coloring book can help them enter more fully into prayer and learning about Christ in the Blessed Sacrament.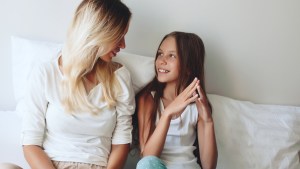 Read more:
The surprising wisdom of teenagers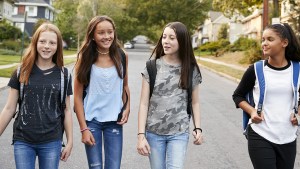 Read more:
The truth about teenage girls