The anonymous text-based tool offers free support to those in need.
It's not always easy reaching out for help if you're feeling low or depressed. In fact, sometimes you may not even be aware that you're in need of support, or you may not have the finances to seek help. So the Archdiocese of San Francisco has come up with a solution that makes the most of modern technology: Sister Hope.
Launched as a one-year pilot program, Sister Hope is accessible to anyone with a phone or computer and offers psychological support that is both free and anonymous.
How it works
First you text: 1 (478) 999-1080 on your phone. Then you just need to respond to certain prompts. If you wish to use Facebook Messenger, just type in "Sister Hope," and you will see the same prompts. The support is available in both English and Spanish.
By typing in "hi" you'll start off a conversation, and from there you'll be guided to get the support you need. "The conversations aim to provide mental health coping mechanisms, foster emotional well-being and resilience, provide benefits education, and connect people with resources," explains Catholic San Francisco.
"It really kind of intrigued me as far as a tool we can put into people's hands to help them with depression and anxiety," Dick Collyer, who is the coordinator of the archdiocese's mental health ministry, shared with Catholic San Francisco.
Although Sister Hope is being piloted in San Francisco, it's being used further afield. Those on the marriage program in the Archdiocese of New York can also make use of it, and Catholic Charities in the Diocese of Charlotte, North Carolina, is also trying it out.
Although this is fundamentally a faith-based "chatbot," it does rely on some pretty impressive artificial intelligence designed by x2ai.com, a high-tech firm in the San Francisco area, as well as the input of psychologists and counselors. The firm has already created "Tess," a secular chatbot that guides people through difficulties they're facing. Sister Hope, however, leans on Scripture, prayer, and the Catholic faith to help those in need.
A trial by Northwestern University found that Sister Hope has been successful. Among those who were feeling depressed, the tool helped to reduce this depression by 13%. Those who were anxious felt their anxiety drop by 18%.
Importantly the service is anonymous, and any data gathered is strictly confidential and will not be disclosed without the patient's consent — in compliance with the Health Insurance Portability and Accountability Act (HIPAA). Therefore the archdiocese will only know how many people are using the service, but not who exactly it is benefiting.
This new technology has a lot of potential. As Collyer reminds us: among the veterans, certain age groups, or those with a certain frame of mind, "they may not want to talk to someone, but they may talk to some thing."
Sometimes having your feelings or pain acknowledged is enough to start the healing process. And sometimes a simple prompt to guide you to a pertinent Bible quote can be enough to keep you going when times are hard.
To reach Sister Hope:
Text  1 (478) 999-1080, OR
Search for @Sister Hope on Facebook Messenger
Enter "Hi" and follow prompts
Enter "Bye" to end conversation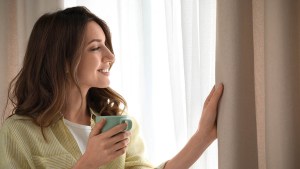 Read more:
How to stay mentally healthy as the COVID pandemic goes on