Icy sidewalks and paths can make it hard to exercise in the winter, but try these fun indoor ways to get moving!
We hear so much about the importance of "self care," but in the crush of daily life, it can be hard to follow through on really doing what's best for our minds, bodies, and spirits. Especially if you're busy working or caring for little ones during the pandemic, it can become all too easy to put yourself last, until you find yourself feeling completely worn out.
Many women find, however, that pregnancy is an exception to this temptation to burnout. Called to nourish a growing baby inside their bodies, women rise to the occasion, and many find that pregnancy motivates them to care for their health more than they usually do. Whether it's remembering to take daily vitamins, making sure to get enough rest, or trading in a glass of wine for a LaCroix, pregnant women excel at caring for both themselves and their unborn baby.
One problem that comes up in the winter months, however, is getting enough exercise throughout the pregnancy. In the summer, it's easy enough to go for a long walk or hike, and hopefully even a swim at the pool or beach (swimming is a great exercise for pregnancy!).
But winter is another story. Snow makes sidewalks slippery, and many women find that it's hard enough trying not to slip and fall on the ice as they walk from the car to the front door—forget about going for a long walk or a run!
Pregnant moms know that physical activity is an important part of health, and can even make childbirth easier, but the cold and ice outside seem to stymie their best efforts. Fortunately there are some great options for exercising indoors. If you find yourself pregnant and struggling to stay active this winter, try one of these ideas!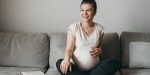 Read more:
3 Essential physical movements to practice during pregnancy


1
Digital exercise programs
Whether you download a prenatal fitness app, rent a pregnancy workout DVD from the library, or simply look up prenatal workout videos on YouTube, you have a plethora of options for exercise videos tailored to each trimester.
2
Dance party
Yes, dancing it out counts as exercise, and it's a fantastic way to boost your mood on a gray day! There's even a hilarious, tongue-in-cheek viral song for pregnant mamas (the "Baby Mama Dance") that's guaranteed to get you grooving and laughing.
3
Bodyweight exercises
Wall sits, lunges, squats, and many other bodyweight exercises are safe to do during pregnancy. Unless your pregnancy is high risk, it's generally considered safe to continue the same workout routine you had before you were pregnant, perhaps with modifications (such as not lying on your belly). And these exercises are easy to do at home whenever you have a few spare minutes!
4
Low-impact outdoor sports
Most pregnant moms might not feel comfortable hurtling down a ski slope or sledding hill, but low-impact sports like snow shoeing, cross-country skiing, and even ice skating can be a great way to enjoy winter and get some exercise during these months of pregnancy. These sports are especially appropriate in 2020, since it's easy to physically distance from others while doing them.