God makes another promise to Abraham for offering his son Isaac, foreshadowing the offering of Jesus on the cross.
Today is the fifth day in our set of meditations inspired by Jesse Tree Advent Tradition.
The concept comes from a passage in Isaiah, where the prophet says, "There shall come forth a shoot from the stump of Jesse, and a branch shall grow out of his roots" (11:1). Jesse is the father of King David, and Jesus was born into that same line of David through his foster-father's (Joseph's) ancestry.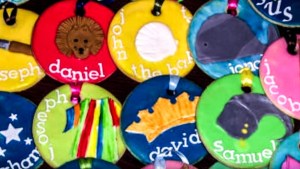 Read more:
Preparing for Christmas? Consider making a Jesse tree
Each day of December we will offer a brief Scripture passage and reflection, following God's marvelous plan of salvation in the Jesse Tree tradition.
Scripture
A second time the angel of the Lord called to Abraham from heaven and said: "I swear by my very self—oracle of the Lord—that because you acted as you did in not withholding from me your son [Isaac], your only one, I will bless you and make your descendants as countless as the stars of the sky and the sands of the seashore; your descendants will take possession of the gates of their enemies, and in your descendants all the nations of the earth will find blessing, because you obeyed my command."(Genesis 22:15-18)
Reflection
Isaac also himself carried to the place of sacrifice the wood on which he was to be offered up, just as the Lord Himself carried His own cross. Finally, since Isaac was not to be slain, after his father was forbidden to smite him, who was that ram by the offering of which that sacrifice was completed with typical blood? For when Abraham saw him, he was caught by the horns in a thicket. What, then, did he represent but Jesus, who, before He was offered up, was crowned with thorns?(St. Augustine, The City of God, Book XVI)

Prayer

O God, who sent your Only Begotten Son into this world
to free the human race from its ancient enslavement,
bestow on those who devoutly await him
the grace of your compassion from on high,
that we may attain the prize of true freedom.
Through our Lord Jesus Christ, your Son,
who lives and reigns with you in the unity of the Holy Spirit,
one God, for ever and ever. 


---

To receive inspiring notifications during Advent download the Aleteia App. You'll get not only the Advent reflections for your daily life, but also the possibility to read Aleteia offline.

Our mobile app is free, fast, smooth, intuitive – we hope you'll like it, and that it will help you stay closer to the kind of stories that will raise your spirits.