Who was the real man behind the Santa Claus legend, and what can his story teach us today?
St. Nicholas is a peculiar saint to consider closely. It seems like everybody, Christian or not, knows his name—jolly old St. Nick, right? But even though Santa Claus is a beloved figure all over the world, the historical record leaves us with little biographical information about the real man behind the legend. 
To be sure, his historical existence is verifiable, and you can see his bones at the Basilica di San Nicola in Bari, Italy. In fact, in 2014, experts used 3D interactive technology and facial reconstruction to recreate what he may have looked like based on his bone structure. But the earliest surviving biography of the saint was written nearly 500 years after he died, so it can be hard to separate the myths from the facts.
What we do know about his life, however, is both instructive and inspiring. He was an extraordinary man, whose goodness is still renowned more than 16 centuries after he died, and whose generosity has become an international byword. On his feast day, men can turn to St. Nicholas for his heavenly intercession and for an example of holiness in action.
1
You don't have to be perfect to be a saint
One of the stories about St. Nicholas that's survived through the centuries is the time when he infamously lost his temper at the Council of Nicaea and slapped an Arian heretic across the face. It's intriguing to imagine what circumstances could have led to this outburst—apparently Church councils were a bit more dramatic in 325! (Although some scholars doubt the story's historicity, many defend it, arguing that hagiographers would not have invented a story that was so embarrassing and reflected poorly on the saint.)
Any man who's struggled to control his temper, or felt tempted to fight with somebody who was really getting under his skin, can find solidarity in this story about St. Nicholas losing his cool. Even saints made mistakes and behaved poorly at times! Nobody is perfect, not even "Santa" himself, but with the aid of Christ's grace, we can ask forgiveness and try again.
2
When you hear of someone in need, find ways to help
One of the most famous stories about St. Nicholas is the time he secretly provided financial help to a poor family. The exact details of the story differ in the various versions, but the gist is that a destitute family could not afford dowries for their three daughters, so St. Nicholas threw bags of gold coins in the window or down the chimney to help them. His act of generosity is the origin of the Christmas tradition of filling stockings in front of the fireplace with gifts.
It would be pretty unusual to throw gold into someone's window nowadays, but the principle behind St. Nicholas's actions is something each of us can take to heart. Hearing of a family in dire need, he didn't wash his hands of the situation, telling himself, "It's not my problem." Instead, he found a way to help, and tried to do so secretly so as not to boast of his good deeds or embarrass the family at having to accept charity (although legend tells us that eventually the father of the family stayed awake to catch the anonymous giver in the act).
When we hear of someone in need, we can take the time and effort to think of ways to help. Perhaps you could run errands for a sick friend, drop off a meal or send a gift card to a meal delivery app, buy a Christmas gift for a child in need, or volunteer to help with an unpleasant but necessary task (like helping a friend move homes). Going out of your way to help someone in need might feel like a chore, but it's a true imitation of St. Nicholas, and is always worth the effort.
3
Trust in God's providence
For many people, 2020 has been a year that has tested their faith in God. So many comforts and sources of joy, both large and small, have been taken away from us, and we don't know when we will get them back.
Scripture shows us a consistent pattern of adverse circumstances testing the faith of holy men and women. It can be hard to fathom how these people held onto faith in the face of such dire calamities. But each time they persisted in trusting God's loving providence, despite all evidence to the contrary, they were richly rewarded. Not only did God pour down His grace and peace on them, but He gave them an honored place in the story of salvation, either as an ancestor of Christ or a worker for His kingdom.
This recurrent scriptural narrative didn't end with the Apostles, but continues in the lives of holy men and women today. Another story about St. Nicholas is a wonderful example. This one tells of a miracle he worked, as told by The St. Nicholas Center:
In another legend, Nicholas is in his hometown of Myra during a famine. A ship was in the port, loaded with wheat for the emperor in Constantinople. Nicholas asked for some of the wheat from the ship for people who were hungry. At first, the sailors refused, but Nicholas promised them that they would not get in trouble for sharing. When the ship arrived at its destination, the sailors discovered that the weight of the load had not changed, even though some wheat had been removed. The amazing thing was that there was enough wheat to supply the town for two full years with enough for planting.
The story calls to mind Christ's multiplication of the loaves and fishes, and indeed, many saints and holy religious orders have their own stories of food and resources miraculously multiplying to help those in need.
What does trusting in God's providence look like for the modern man?
In today's world, acts that would not have been considered noteworthy in past generations, such as getting married and having a child, can feel like "casting out into the deep." Between the cultural pressure to put personal comfort before everything else, and the relentless bad news from the media, it may seem foolhardy or frightening to get married or bring a child into the world.
When the Apostles "cast out into the deep" and trusted Jesus' words, even though they didn't make sense, their nets overflowed with fish. In the same way, taking a leap of faith—perhaps to commit to a relationship or a religious order, perhaps to hold onto peace in the face of relentless setbacks and hardships—will yield an abundant spiritual harvest.
Just as St. Nicholas trusted God to provide wheat for his hungry flock, we can turn to God in all the trials of our own lives, confident that He will provide—maybe not in the way we wanted or expected, but in a way that is real and meaningful, as He assured us: ""Come to me, all you who are weary and burdened, and I will give you rest" (Matthew 11:28).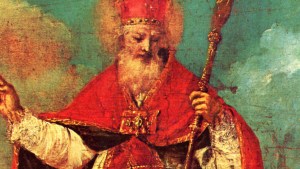 Read more:
How St. Nicholas was the first "Secret Santa"