The covenant God made with humanity continues through a promise made to Jacob.
Today is the sixth day in our set of meditations inspired by Jesse Tree Advent Tradition.
The concept comes from a passage in Isaiah, where the prophet says, "There shall come forth a shoot from the stump of Jesse, and a branch shall grow out of his roots" (11:1). Jesse is the father of King David, and Jesus was born into that same line of David through his foster-father's (Joseph's) ancestry.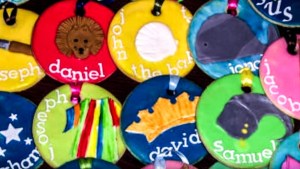 Read more:
Preparing for Christmas? Consider making a Jesse tree
Each day of December we will offer a brief Scripture passage and reflection, following God's marvelous plan of salvation in the Jesse Tree tradition.
Scripture
Then he had a dream: a stairway rested on the ground, with its top reaching to the heavens; and God's angels were going up and down on it. And there was the Lord standing beside him and saying: I am the Lord, the God of Abraham your father and the God of Isaac; the land on which you are lying I will give to you and your descendants.(Genesis 28:12-13)
Reflection
Jacob saw a ladder in a dream; and on a ladder he saw angels ascending and descending: and he anointed the stone which he had placed at his head. You have heard that the Messiah is Christ; you have heard that Christ is the Anointed. For Jacob did not place the stone, the anointed stone, that he might come and adore it: otherwise that would have been idolatry, not a pointing out of Christ. What was done was a pointing out of Christ, so far as it behooved such a pointing out to be made, and it was Christ that was pointed out. A stone was anointed, but not for an idol. A stone anointed; why a stone? Behold, I lay in Zion a stone, elect, precious: and he that believes in Him shall not be confounded. Why anointed? Because Christus comes from chrisma. But what saw he then on the ladder? Ascending and descending angels. So it is the Church, brethren: the angels of God are good preachers, preaching Christ; this is the meaning of, they ascend and descend upon the Son of man. (St. Augustine, Tractate 7)

Prayer

Almighty and merciful God,
may no earthly undertaking hinder those
who set out in haste to meet your Son,
but may our learning of heavenly wisdom
gain us admittance to his company.
Who lives and reigns with you in the unity of the Holy Spirit,
one God, for ever and ever. 


---

To receive inspiring notifications during Advent download the Aleteia App. You'll get not only the Advent reflections for your daily life, but also the possibility to read Aleteia offline.

Our mobile app is free, fast, smooth, intuitive – we hope you'll like it, and that it will help you stay closer to the kind of stories that will raise your spirits.