This is the most exceptional recording produced during the 2020 pandemic, hands down.
A German orchestra has released most incredible work of sacred music to be recorded since the world pandemic began. Titled Oratio, the work draws on the texts of the biblical Book of Lamentations, which when put to music is usually called "The Lamentations of Jeremiah." 
This is a brand new composition from contemporary German composer Mathias Rehfeldt. A composer of sacred music and film scores, Rehfeldt beautifully captures the emotion behind the text, which is a collection of poetic laments for the destruction of Jerusalem in 586 BC. The work features a full orchestra and chorus performing at Munich's jaw-dropping Theatine Church, conducted by Father Robert Mehlhart OP.
Clocking in at just under 15 minutes, there is a lot going on in this masterfully orchestrated work. The chorus is exceptional in their use of dynamics, often supported on their soaring notes by underlying brass sections. Each movement of this impressive chant matches to perfection the musical atmosphere and the lyrics. We were especially blown away by the cacophony of sound that erupts after the chorus chants "The crown has fallen," and the heavenly tones they achieved while begging the Lord to "Convert us" was resplendent.
In a Facebook post, Munich's Theatine Church said of the work:
On the night of October 14, 2020, 54 musicians distributed themselves on the big square under the dome of the Theatinerkirche and recorded the ′′ Oratio Jeremiae ′′ by the young composer Mathias Rehfeldt, in compliance with the distancing rules. The largest premiere at the Theatinerkirche since World War II has been created as a video production.
A beautiful video
This incredible musical recording was made all the more poignant by the breathtaking shots of the Theatine Church. More than once we found ourselves pausing the video during cuts to the four soloists standing before the highly ornamented sanctuary. Shots of the orchestra from different angles give the viewer a treat for the eyes as the camera pans across the 17th-century church.
Oratio is an incredible achievement that displays the wonder of sacred music while proving that contemporary composers can stand up with the Church's greatest musical writers. In addition, the recording provides us with a comforting reassurance that great music can still be recorded while social distancing.
Be sure to click the closed captioning button at the bottom of the video for English subtitles.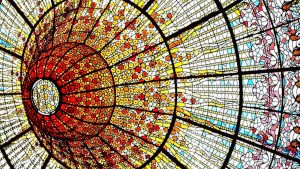 Read more:
Lose yourself in the absolute beauty of sacred choral music