If you ever doubted that true love exists, this picture will give you all the proof you need.
For those who have the joy of being happily married, you know that 100 days feels like an eternity without the warmth and affection of your spouse. One elderly couple in Barcelona gave us a powerful example of this in a recent image captured of their reunion after 102 days. Here's the tweet by AP editorial manager and photographer Emilio Morenatti:
In their first meeting after 102 days of confinement, Agustina Cañamero, 81, and Pascual Perez, 84, kiss each other through a plastic sheet to prevent the spread of the coronavirus, at the Ballesol Fabra i Puig residence in Barcelona on Monday, June 22, 2020.
En su primer encuentro tras 102 dias de confinamiento, Agustina Cañamero, 81, y Pascual Perez, 84, se besan a través de una lamina de plástico para evitar el contagio del Coronavirus, en la residencia Ballesol Fabra i Puig de Barcelona el Lunes 22 de Junio de 2020. pic.twitter.com/LrGUxzeHYt

— Emilio Morenatti (@EmilioMorenatti) June 22, 2020
I love this picture! It fascinates me. It reminds me of my mother and father, still alive and healthy, who despite life's adversity, crises, and arguments, still stay together, pray together, sleep together, walk together, go to Mass together, still dream together, grow old together, get wrinkles little by little together … Their love prevails through it all and becomes more and more purified.
In times like this, and at a time when divorce seems to be increasing, the couple in the photo teaches us so much! It's the most meaningful kiss, which represents God's divine dream, which represents hope for humanity.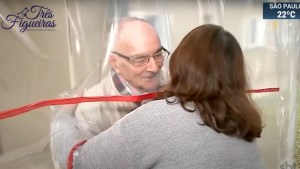 Read more:
Brazilian nursing home creates "hug tunnel" for elderly residents during COVID-19
A kiss of the soul
This photo is irrefutable evidence that one of the beautiful aspects of marriage is growing old together. Today social networks bombard us with new marriages and celebrity couples, who discard each other immediately when problems, illnesses, or wrinkles appear.
But this photo should win all the prizes. It represents the best medicine in the world because it represents God's love for humanity. It represents forgiveness and life. It also represents pure and perfect love, which does not depend on a perfect body or mind but depicts the love of an elderly couple who have learned to fall in love with the soul.
The world is in chaos, full of war, hunger and loneliness. But love will overcome. Even the coronavirus cannot overcome the wonderful thing that is love.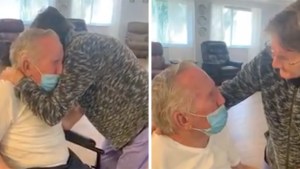 Read more:
Watch elderly couple married 60 years reunite after 215 days apart