Live On goods give people their dignity, a sense of style and the protection they need.
Need an idea for Lenten almsgiving?
Help us spread faith on the internet. Would you consider donating just $10, so we can continue creating free, uplifting content?
Make a Lenten donation here
One of the many difficulties faced by adults with special needs is to blend in with their community. Although these more vulnerable members of society may need a little extra care, they still need to retain their dignity. To respond to that, a group of four women joined have together to create Live On Goods, a company that makes a stylish adult bib clothing protector.
Thanks to the women's business acumen, knowledge of those in need, and desire to help them, the women were able to create a protective and waterproof bib that could easily pass as a stylish accessory. To top it off, the name of the bib also has a bit of French flair: The BonTop.
The bib is not only made using a stylish material, it also comes complete with a little pouch to catch any accidents. For its users it means being able to go to a restaurant feeling a little more stylish and blending in with others.
It's heartwarming to hear from BonTop users. One of them shared, "I look like I am really first class when I am wearing the Men's Classic." The testimonial is a reminder of the importance of human dignity at every stage of life — a belief echoed recently by Pope Francis, who reminded us that human dignity is the foundation of Catholic social teaching.
If you'd like to learn more about the stylish bibs and see their collection, visit the company website here.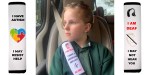 Read more:
Mom's genius device for kids with special needs goes viral