The Holy Father notes the delight of children -- and adults -- at seeing the trees and Nativity scenes.
Pope Francis on December 6 mentioned the Christmas tree that is up in St. Peter's Square and the Nativity scene that is being prepared beside it.
In these days, also in many homes these two signs of Christmas are being prepared, to the delight of children… and adults too!
The pope said they are "signs of hope, especially in this difficult time."
And he urged us:
Let us  be sure we do not stop with the sign, but get to the meaning, that is, to Jesus, to the love of God that he revealed to us; get to the infinite goodness that he made shine on the world. There is no pandemic, there is no crisis that can extinguish this light. Let us allow it to enter our heart, and let us lend a hand to those who need it most. In this way God will be born anew in us and among us.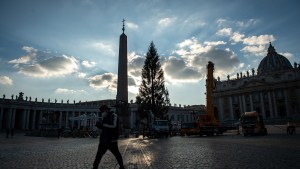 Read more:
Photos: Christmas tree arrives at the Vatican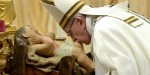 Read more:
Pope Francis explains the symbolism of each figure in the Nativity scene