The unique needs of 2020 have resulted in a more "practical" Christmas gift for the Vatican employees.
Rather than the traditional sweet bread called panettone and a bottle of spumante (Italian sparkling wine), Pope Francis' Christmas baskets for Vatican employees this year have medicines.
The idea of ​​offering boxes of Tylenol/paracetamol-based medicine came from Cardinal Konrad Krajewski, the cardinal who has become well known for distributing the pope's charity around Rome.
The choice meets the current needs of employees while at the same time limiting the expense faced by the Holy See, as the Vatican is economically affected by the current crisis, as so many others are as well.
Since the onset of the health crisis, significant efforts have been made by Vatican City to maintain all the jobs and salaries of some 4,000 Holy See employees, despite 2020's losses.
Deprived of its main sources of income – starting with the revenue generated by the Vatican Museums – the smallest state in the world is therefore monitoring its finances in view of "greater" difficulties, as Father Juan Antonio Guerrero, prefect of the Secretariat for the Economy, told Vatican News already in October.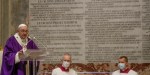 Read more:
3 Good things to intensify during the pandemic: Recommendations from Pope Francis