The charitable foundation has a star-studded lineup for this year's annual fundraiser.
The last few years have given rise to a variety of "viral challenges," in which participants perform a range of activities from dumping ice water over their heads to hitting the floor and completing pushups. Now, the Saint Pio Foundation has taken on a "challenge" of its own: to feed as many people as possible this Christmas season.
The Saint Pio Foundation has announced a live virtual gala, "Christmas Challenge Initiative 2020," on December 11 at 6 p.m. EST. The event will be co-hosted by famed entertainerJoe Piscopo, alongside CBS News anchorMary Calvi. This virtual event will feature special musical guests, including Grammy Award Winner Jose Feliciano, Deana Martin, Phantom of the Opera star Franc D'Ambrosio, and Metropolitan Opera singer Matthew Polenzani. Keynotes and prayers are to be given by Father Pat Conroy, Chaplain of the U.S. House of Representatives.
The goal of the gala is to raise enough funds to provide at least 2,000 struggling families with Christmas day meals. The boxed food will serve families across southern Connecticut, Westchester, New York City, Brooklyn, and Washington, D.C. In a promotional video, featured above, the Foundation notes that roughly one fifth of families in these areas are in need of assistance.
Ways to donate
The event is free to attend via the Saint Pio Foundation website. While there is no fee, a donation of $20 or is suggested. All proceeds will go towards procuring the finest food possible for the thousands of boxes they assemble.
The Saint Pio Foundation is more than happy to accept monetary donations, but they also offer several items of swag to purchase in support of their efforts. These items include: a Padre Pio tie, gift certificates to participating restaurants, and wine.
Those who are interested in donating $500 or more can purchase a personal video conference with a celebrity who supports the Saint Pio Foundation. The list of celebrities available to conference with include: actor Joe Montegna, Joe Piscopo, Franc D'Ambrosio, Tony Lo Bianco, and Mary Calvi. Learn more here.
About the Saint Pio Foundation
The Saint Pio Foundation is a non-profit organization is dedicated to the promotion of national and international awareness of Saint Pio of Pietrelcina, a contemporary saint of the Roman Catholic Church. The Saint Pio Foundation works with institutions and individuals who share a common vision of serving those in need of relief from suffering.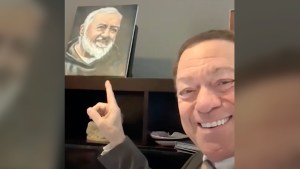 Read more:
Joe Piscopo named honorary advocate of St. Pio Foundation