Five French priests died while serving the sick during the 1873 Louisiana epidemic.
The Catholic Church is currently considering the cause of five French priests who willingly served the sick during a yellow fever epidemic.
Their names were Fathers Jean Pierre, Jean Marie Biler, François Le Vézouët, Isidore Quémerais and Louis Marie Gergaud, referred to by the local population as the "Shreveport Martyrs."
According to the Houston Chronicle, the priests "headed to Shreveport in 1873, when nearly 30% of the city's population had the disease. The priests' decision would cost them their lives. All five contracted yellow fever just days apart, and they died in September and October of 1873."
What is unique about this situation is that the majority of the population was non-Catholic, so the priests were serving the people's physical and spiritual needs, knowing that they would die from the disease.
Cheryl White, history professor at Louisiana State University Shreveport, explained how extraordinary this was in an interview with Crux.
The fact that not a single one of them hesitated to stay in an epidemic area where they believed it was person to person transmittable while other people were leaving, the story is above and beyond normal human experience.
Their story is one that has inspired the local population for many years, but is now being considered by the Vatican in hopes of shedding more light on these "martyrs of charity."
In May of this year, during the midst of the COVID-19 pandemic, Bishop Francis Malone of Shreveport wrote to the Vatican to formally begin the process of declaring these priests Servants of God. This is the first step in the canonization process.
The Vatican will now take its time to consider the cause and explore the lives of these heroic priests who served the sick knowing that they would likely die.
They chose to stay behind when everyone else was leaving the city.
The "Shreveport Martyrs" have already been invoked by many during this recent pandemic, seeking their intercession as priests discern how best to serve their flock.
Read more:
How Bl. Miguel Pro served his people during church closures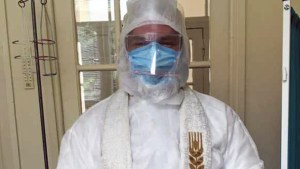 Read more:
In Ukraine, a priest brings God's love to COVID-19 patients