Saint JPII beatified him, calling him the "second father in faith" of the Maltese archipelago, the first one being Saint Paul himself!
Our beloved Saint Ġorġ (George, in English) Preca -Dun Ġorġ as we Maltese know him- was born in Valletta, on 12 February 1880.
In 1888, the Preca family moved to Ħamrun, a town which is very close to the Capital. Young Ġorġ's health was far from good. Indeed, his childhood and youth were one long chain of illnesses and physical suffering. He also had acute pulmonary tuberculosis, but despite the poor prognosis, he survived. Ġorġ believed it was all thanks to Saint Joseph, the patron saint of the dying. However, he had to live with a permanently damaged lung.
Once young Ġorġ, was strolling in Il-Mall (a public garden in Floriana), where he met one of his high school  Professors, Fr Ercole Mompalao, who told him lovingly: "Preca, when you grow up, people who revere God will befriend you and you them. You will find your good fortune through them and they through you". After high school, Ġorġ entered the Seminary. He was ordained priest on 22 December 1906. Dun Ġorġ always recounted how Fr. Galea, his confessor, appeared to him a few days after he passed away, and told him: "God has chosen you to teach his people". Ġorġ was enthused with this idea and wrote a rule in Latin for Pope Pius X's approval – He envisioned groups of seven permanent deacons (assisted by lay auxiliaries) in every parish who would be responsible for the formation of the People of God. This idea later developed into the Society of Christian Doctrine (SDC), which is briefly illustrated further down in the article.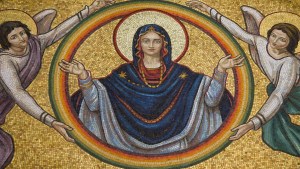 Read more:
How the Assumption saved Malta during WWII
St. Ġorġ's life on earth revolved around spreading and explaining the Good News in the Maltese islands. For this Apostle of the Word, the Gospel was "The Voice of the Beloved". He authored and published numerous books and booklets on prayer, dogma, morals and spirituality. When preaching about death, Divine Judgement, Heaven and Hell he never sugar-coated his teachings, nevertheless, he always proclaimed the Lord's infinite mercy. Dun Ġorġ was also very gifted. In many instances it was very clear that he was endowed with knowledge of hearts and of the future.However, he was an example of humility, goodness, meekness and generosity – a holy pastor of the People of God! On 2 October 1952, Pope Pius XII made Dun Ġorġ Privy Chamberlain and elevated him to Monsignor. In the evening of 26th July 1962, Dun Ġorġ Preca went back to the Father's home, after a long and passionate life in the service of God and His people. He had expressed his desire for a very simple funeral, but this was not granted as thousands from all walks of life, including the highest civil and ecclesiastical authorities, flocked to pay him tribute. He is buried in the Crypt of the Church of Our Lady of the Miraculous Medal in Ħamrun, which immediately became a pilgrimage destination.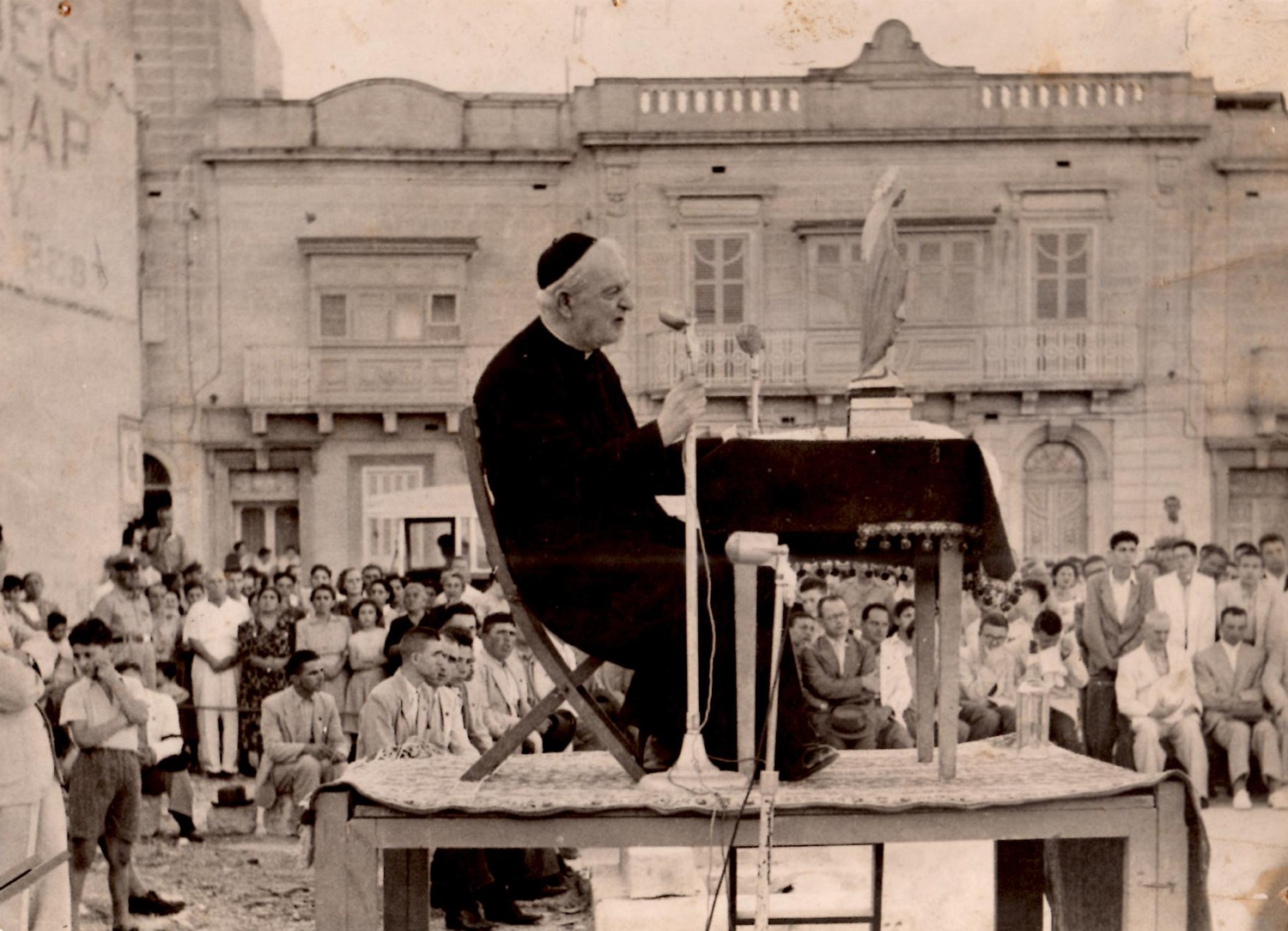 In 1975, Fr. Ġorġ became a "Servant of God" – so a diocesan investigation immediately commenced. This was finalized in 1988. In 1999, St. Pope John Paul II made him Venerable, due to his "heroic virtue". Subsequently, on 9th May 2001, His Holiness beatified him, who also referred to him as our islands' "second father in faith." The miracle which occurred for the cause of his beatification concerned Charles Zammit Endrich. Charles had a detached retina and was healed after he placed one of Fr. Ġorġ's personal belongings under his pillow! His personal physician, Censu Tabone (the late President of Malta) was a witness to this happening.  The Saint's liturgical feast is celebrated on 9 May. Another miracle, which got him canonized, healed young Eric Catania from a liver disease, after his parents placed on their son a glove which was used during Dun Ġorġ's exhumation. Eric was due to undergo a major complex surgery to hopefully cure his liver decompensation, but thanks to St. Ġorġ's intercession Eric didn't even need the procedure and fully recovered!
St. Ġorġ's fervent devotion to Mary
Fr. Ġorġ had an immeasurable devotion to the Blessed Virgin Mary. The holy priest learnt to trust her maternal protection, especially during hard times in his life and the difficult moments of the Society he founded. Back in 1918, he was also enrolled as a Carmelite tertiary. Today, children attending the Society's centres are still enrolled in Our Lady's Scapular. Fr. Preca also composed various prayers to Mary, including prayers referring to virtues related to the Mysteries of the Holy Rosary, to be recited before the Our Father. Dun Ġorġ also nurtured a filial devotion to Our Lady of Good Counsel. On one occasion, during difficult times and harassment, he and the Society were suffering, while passing by an image of Our Lady of Good Councel, Fr. Ġorġ heard the Blessed Virgin Mary say Serva Silentivm (Keep quiet). He took her counsel, obeyed and did not react to the persecution he and his followers were suffering Indeed, good counsel it was, as in no time the situation resolved itself. It was like the entangled circumstances dissipated in thin air!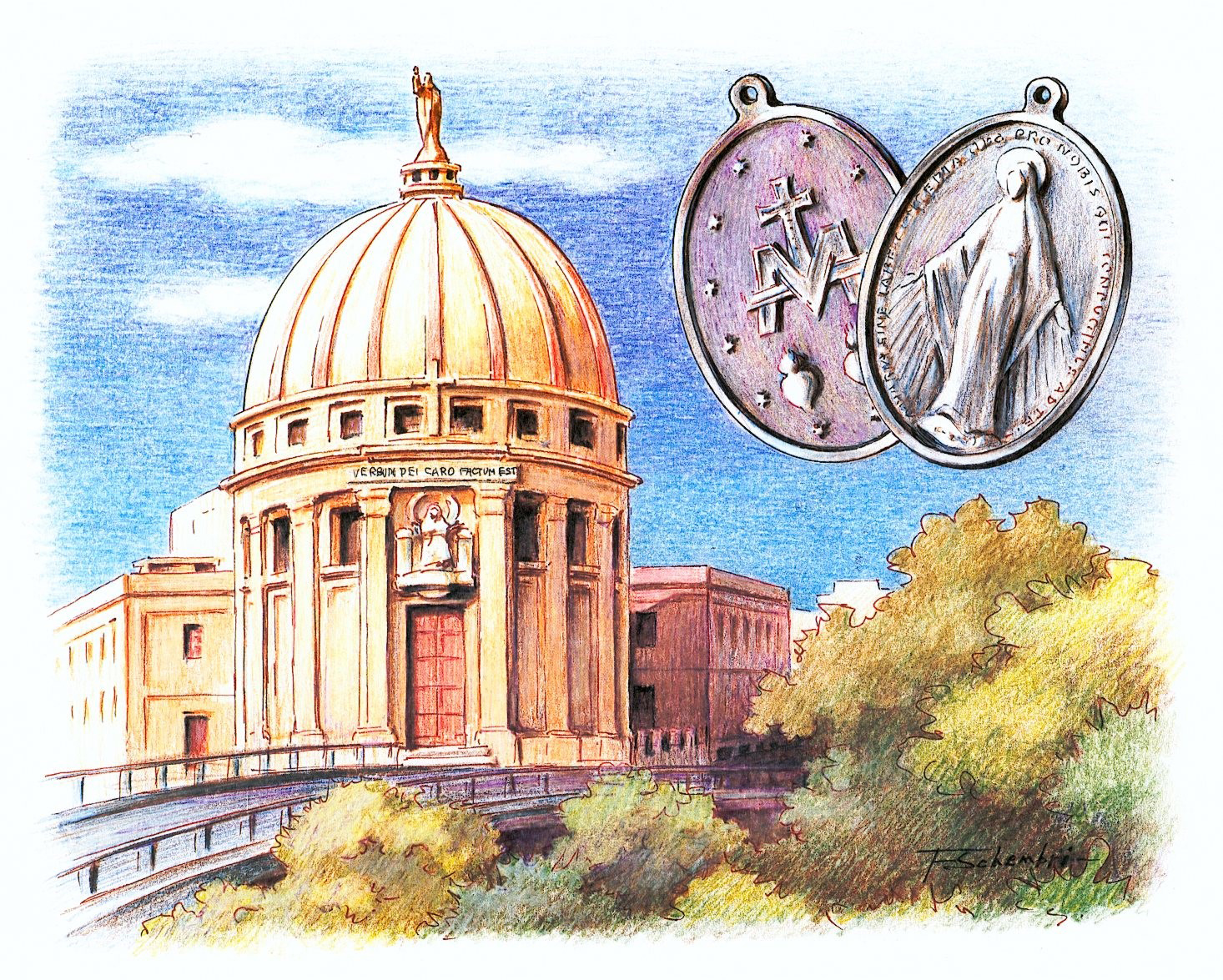 Also, St. Ġorġ Preca did everything he could so more people come to love the Holy Rosary. He passionately repeated on end that, "every day the Virgin Mary waits for us until midnight to recite the Rosary." In 1957, Fr. Ġorġ wrote the five "Mysteries of Light". What stirred him was John 8:12 "The light of the world.". Fr. Preca had concluded that the Rosary had a missing link – the public ministry of the Lord. Fr. Preca was also heard saying that he relished praying these 'new' mysteries and contemplating the Lord, who is "the Light of the world". On 16th February 2002, the 25th anniversary of his pontificate, Pope St. John Paul II publishing an Apostolic Letter titled Rosarium Virginis Mariae(RVM), in which he inaugurated the Year of the Rosary (from October 2002 to October 2003). In this document, His Holiness also introduced the five new Luminous Mysteries of the Rosary.
Read more:
When the plague hit Malta, the Knights made a promise: A Marian miracle followed
These new Mysteries delve into the public life of Our Lord. This addition to the Holy Rosary, which was unchanged for over 400 years, attracted huge interest and intense debate. The Letter also covered novel teaching on the Rosary, nevertheless, the media were quasi-entirely focused on the Mysteries of Light. Indeed, journalists from all corners of the world, Catholics and non-Catholics, homed on these Mysteries, and took the opportunity to highlight that the Pope could have been inspired by the work of a Maltese priest – whom he himself had declared Blessed a few months before, in 2001 – Blessed Ġorġ Preca.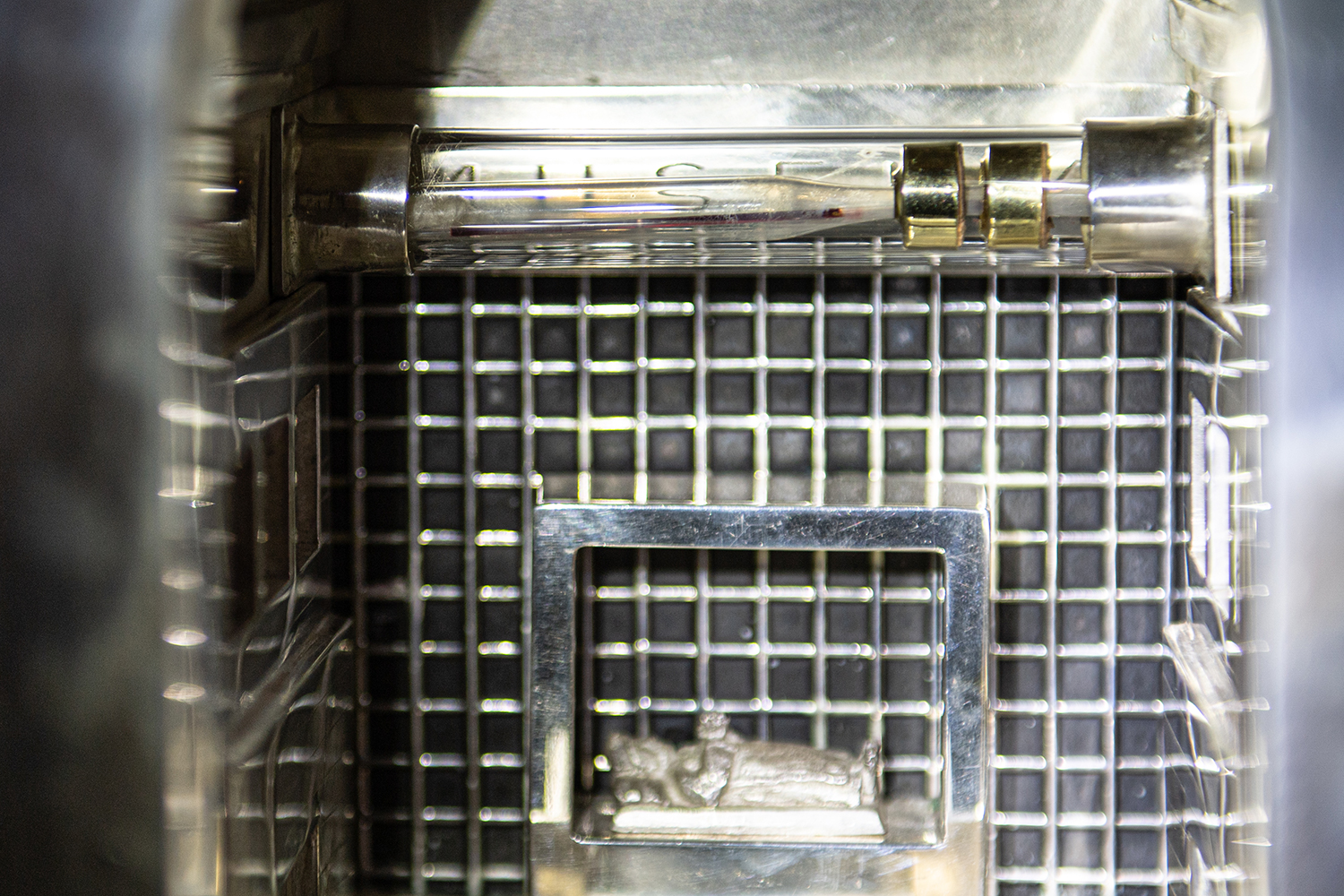 Media agencies included The Guardian, The Universe, The Tablet. It is not known whether St. John Paul II's mysteries were actually inspired by Dun Ġorġ's work, but the striking similarity (with the exception of a few minor differences), between these two Mysteries, conceived 45 years apart, does trigger significant inquisitiveness. Interesting as well are the almost identical titles. If this inspiration occurred, various suggestions have been put forward; on how His Holiness might have come across St. George's work. Well, one thing is for certain – God works in mysterious ways – and nothing is impossible for God. Perhaps both saints were divinely and separately inspired to help people contemplate the public ministry of His only begotten Son Jesus Christ. Dun Ġorġ's Mysteries of Light became "public property" after two publications, one in 1973 and the other in 1987. Following are the Mysteries of Light by Fr Preca, and by the Pope:
St.Ġorġ Preca's work:
After Jesus was baptised in the Jordan, he was taken to the desert.
Jesus reveals himself as true God by word and miracles.
Jesus teaches the Beatitudes on the mountain.
Jesus is transfigured on the mountain.
Jesus takes his last supper with the Apostles.
St. Pope John Paul II's work:
Jesus is Baptised in the Jordan;
Jesus reveals Himself through the miracle of the wine at the wedding at Cana;
Jesus proclaims the Kingdom of God;
Transfiguration of Jesus on Mount Tabor;
Jesus institutes the Eucharist.
St. Ġorġ also spread the devotions to Our Lady of Mount Carmel and the Scapular, and the Miraculous Medal. However, he also fervently sought to bring to life their true essence and original meaning, since a substantial part of the faithful practiced these devotions superficially. St. Ġorġ wanted Christians to discover the spiritual depth of these Marian devotions. In fact, he insisted that it is an abuse of Holy Mary's Mercy to ask for help and protection while living in sin! He had a deep love for the Scapular, because on the feast day of Our Lady of Mount Carmel, when he was just 4 or 5 years old, he was saved from drowning. He never got tired of urging people to wear the Scapular and to repeat what the Virgin Mary told St. Simon Stock: "Those who die wearing the Scapular are saved from eternal perdition."Dun Ġorġ also fervently spread the devotion to the Miraculous Medal, which the Virgin Mary gave to St. Catherine Labourè. On numerous times he was heard saying that "those who wear this medal are protected from fever of the soul and of the body".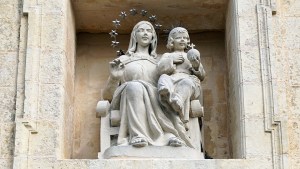 Read more:
Malta, under the gaze of Mary
He also dedicated the Church of the Society's Motherhouse to Our Lady of the Miraculous Medal. The well-preserved body of our Saint lies in a glass urn, beneath a wax effigy, in this church. The hands of the figure are crossed on his chest with the fingers expressing the Mystery of the Holy Trinity, on which Fr. Preca meditated profoundly and preached ardently.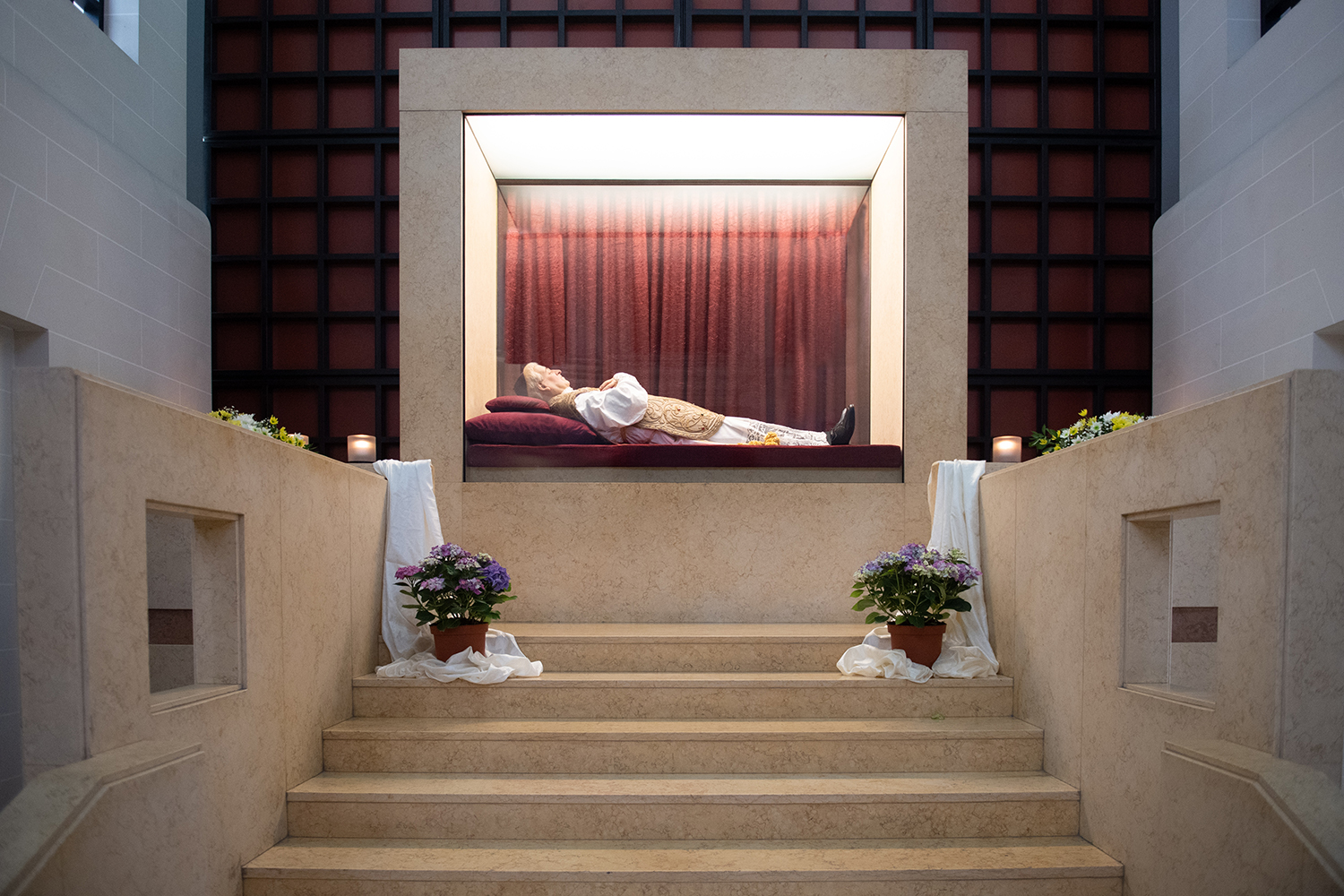 During Fr. Preca's time there were quite a few devotions to Mary. Nevertheless, as I indicated above, he realized that these devotions should be understood and strengthened through learning. For this purpose, he wrote various Marian books, namely Il-Benedicta (The Benedicta), Il-Lapidarju (The Lapidary), and Aula Sanctae Matris Virginis. In his Direttorju Spiritwali (Spiritual Directory), he wrote sixteen directives on the prayer of the Holy Rosary. His desire was to strengthen the love for Mary through the teachings of the Church. In another book titled Ktieb il-Kbir (The Great Book), he expresses this thought: "It is being proposed that we study the teachings of the Church on the Most Blessed Mary: 'Gate of heaven' so that our trust in her grows." For Fr. Ġorġ, Mary was the true "Gate of Heaven" because "….Only through her did Christ want to enter earth, in order to become man, give His life, rise and ascend to Heaven" (The Great Book, Page XXXVII).
St. Ġorġ Preca also meditated with passion on the Annunciation and Mary's "Yes" to the Incarnation of Christ. Indeed, in his book "Year of the Lord", which offers a thought for every day of the year, he imagines Jesus on the 25th of August, telling us "As a true man, I am created, but since my conception in the purest womb of my Virgin Mother, I am naturally and substantially predestined to be the true Son of God."  In actual fact, Saint Ġorġ chose a verse from Saint John's Gospel to be the slogan and raison d'etre of his Society: Verbum Dei Caro Factum Est (And the Word was made Flesh). He wanted all his Society's members to live this verse, to chant it in their hymns, to repeat it in their prayers, to headline it in all their correspondence, to use it as a greeting and to wear it on their emblem.
How the Society of Christian Doctrine came to be
It was around 1905-1906 that George met a group of young people in Ħamrun and invited them to start attending his spiritual meetings. This marked the beginning of the Society of Christian Doctrine. It is practically a group of lay people who dedicate themselves to the apostolate of catechesis.  The full and original name of this Society is "M.U.S.E.U.M", which literally stemmed from a pun. The place where the first meetings where held was so rundown that it was humorously referred to as the "museum". This "title" soon became the name of the group, so Dun Ġorġ had no alternative but to devise an acronym in Latin. He came up with Magister Utinam Sequatur Evangelium Universus Mundus! (Teacher, O that the whole world would follow the Gospel!). In 1910, Dun Ġorġ had a very powerful mystical experience. He called it "The extraordinary vision of the child Jesus". One morning, he was walking close to a place called the Marsa Cross (Is-Salib tal-Marsa), when he suddenly noticed a boy pushing a cart holding a bag of manure. The boy fixed his gaze on George and imperiously ordered, "Lend me a hand!" The instant Fr. Ġorġ held the handles of the cart he felt an extraordinary spiritual sweetness. However, after the experience Dun Ġorġ could never recall where they went or what happened to the young boy. But he later realized that the boy was Jesus, and that he was asking him, and his followers, for help to keep the Lord's field and vineyard fertile with sound doctrine and formation.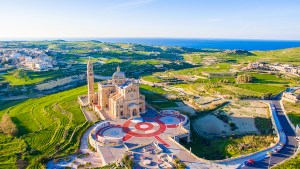 Read more:
The miraculous story of Our Lady of Ta' Pinu National Shrine, in Gozo
Nevertheless, the Society had its difficult moments. In fact, in 1909, Dun Ġorġ was ordered to close his centres. Dun Ġorġ's reaction was to order the members to take a vow of meekness, gladly forgiving anybody who made fun at them. He also taught them "to love the contempt" they suffered and not to let it trouble them unduly. In 1916, Bishop Mauro Caruana ordered an enquiry on the Society. After many humiliations Fr. Ġorġ and his followers suffered, the Curia exonerated the Society. Some changes were required, but the way was open for definitive ecclesiastical approval. The SDC was canonically erected on 12 April 1932. On Christmas Eve 1921 the Society organized the first "Demonstration in honour of the Baby Jesus" in towns and villages around Malta and Gozo. This event has since become an integral part of Christmas tradition and celebrations. Fr. Ġorġ wanted that during the Christmas season every child, who attended catechism classes, took home a small crib or statue of Baby Jesus. In 1952 he sent the first members to start the Society in Australia. Today, the M.U.S.E.U.M is also in England, Albania, Kenya, Peru, Poland and Cuba.
A concluding thought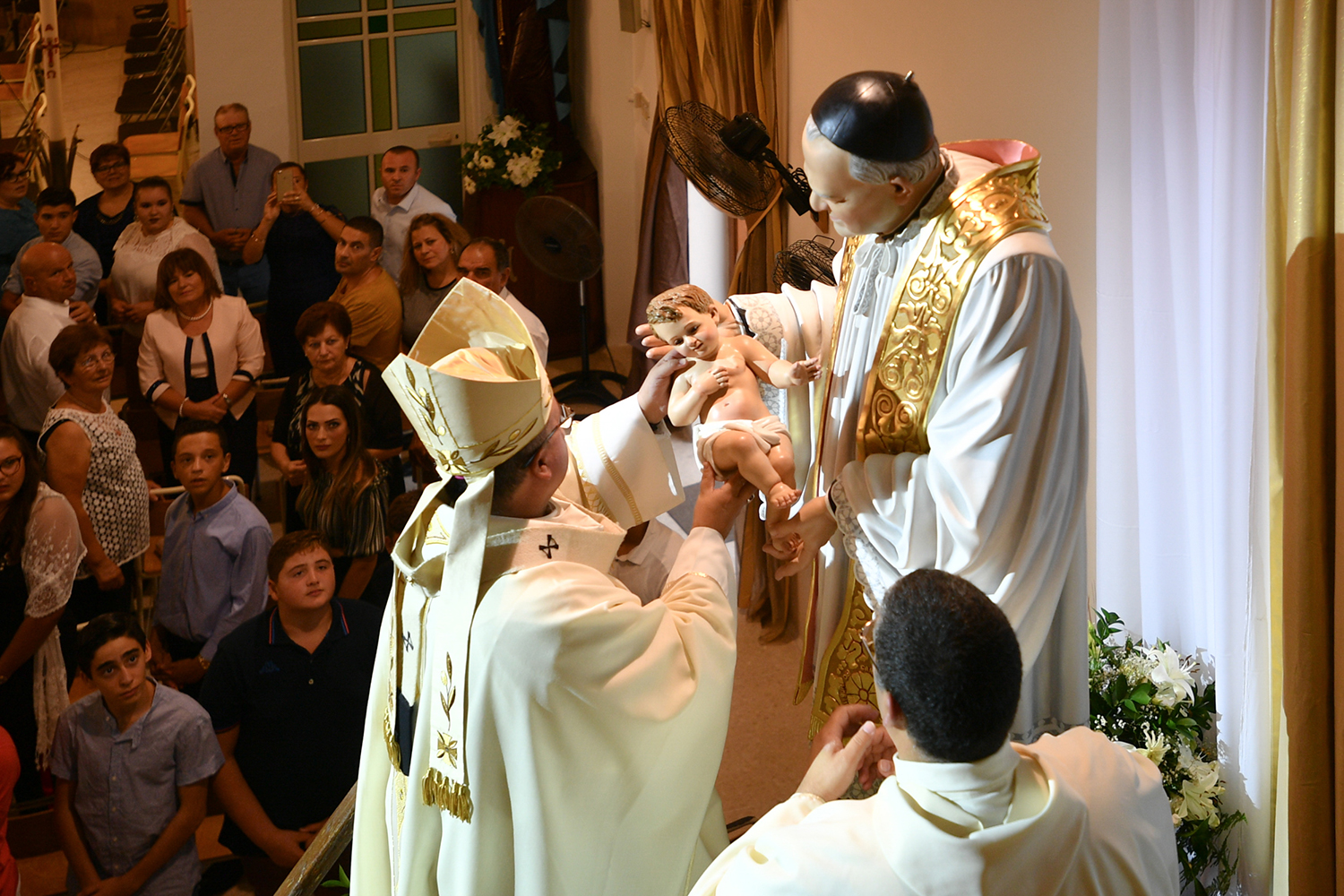 On the occasion of the feast of our cherished saint, during Holy Mass celebrated in the parish church of Swatar, dedicated to San Ġorġ, the Archbishop of Malta, His Grace Mgr. Charles Jude Scicluna, clarified that the saint's greatness came from letting God preserve his docile heart. He said:
St. Ġorġ's frailty might give the impression that he had nothing special. But if one looks beyond this, and sees him through  the masterpiece the Holy Spirit worked in him, there is greatness….. We should learn from him to deeply treasure the gifts of meekness and humility. On this, he was very insistent in his teaching, in fact, Dun Ġorġ said that these are the two virtues of the heart of Jesus, indeed Jesus told us: "learn from me, for I am meek…", and forget the harm I suffered, "…and humble of heart". When he used to say this, it wasn't limited to an exhortation, but was also a command, because if we do not forgive those who trespass against us, neither will the Lord forgive us – the words of Jesus. On humility he used to say that by refusing to be humble, we close our hearts and do not allow God to help us. Our pride closes the door to the Lord, but when we are humble, we admit that we need Him, and like St. Ġorġ we say to Him: Thank you My God; forgive me My God. [Translated from Maltese]
Visit the slideshow below to learn more about the life of Dun Ġorġ!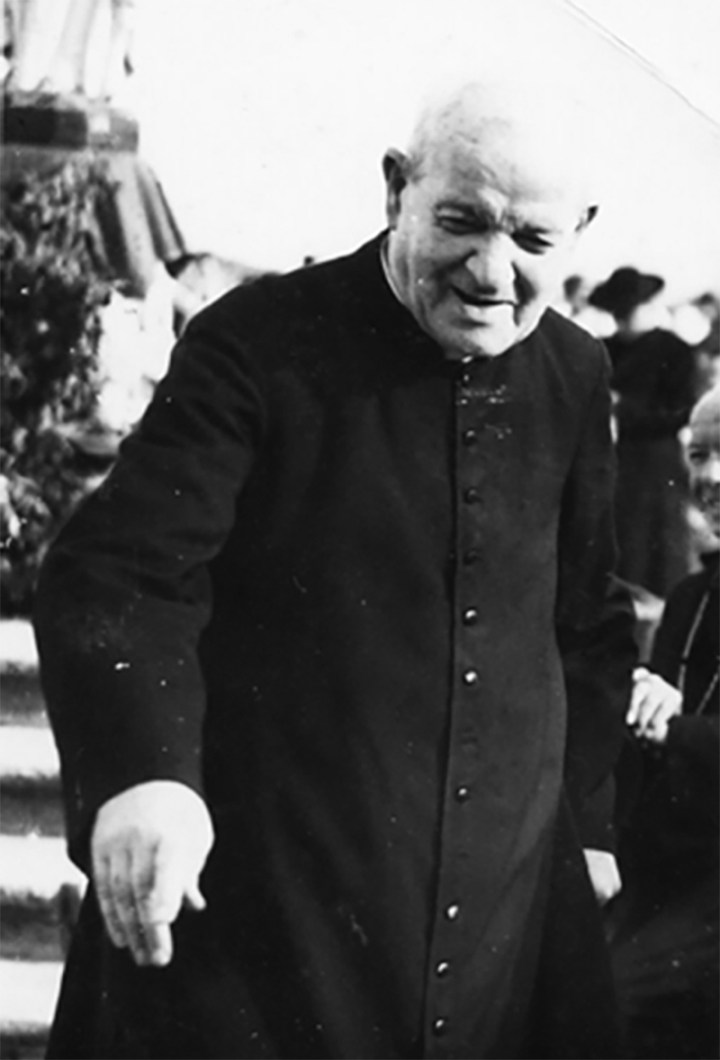 Launch the slideshow
References
First of all, I would like to convey my gratitude and  special thanks to Mr. Ġorġ Agius, of the Society of Christian Doctrine, for his invaluable and very patient guidance, and to His Grace Archbishop Charles Jude Scicluna for inspiring me to write this article..
Society of Christian Doctrine. Accessed November 2020.
Blessed George Preca – Diocesan Priest – Founder of the Society of Christian Doctrine, M.U.S.E.U.M. The Holy See. Accessed November 2020.
San Ġorġ Preca. Laikos. Accessed November 2020
Formosa J. Probable Origin of the Mysteries of Light. Catholic Planet. 2004. Accessed November 2020
Mallia J. Of miracles & hope: A spotlight on Malta's very own saint, San Gorg Preca – A "second father in faith". 2019. Accessed November 2020.
The Homily of the Archbishop – Parish Church of Swatar, 9th May 2015. Archdiocese of Malta. Accessed December 2020