This tradition from the north is an effective parenting and anger management tool, especially when it comes to toddlers!
In much of the western world, parents brace themselves for the "terrible twos," — that delightful moment in a young child's life where they find their voice to show their discontent to anyone who'll listen. It can be exhausting and overwhelming, but there's a way to address this parenting dilemma, and it comes from way up north.
In the 1960s, a 34-year-old anthropologist, Jean Briggs, set out on a 17-month trip to the Arctic Circle. Living in an environment cut off from all the usual creature comforts, including a roof over her head, Briggs survived thanks to the kindness of one Inuit family who took her in to their home. During her time among the Inuit, she came across a surprising phenomenon: Inuit people have an extraordinary ability to control their anger.
"They never acted in anger toward me, although they were angry with me an awful lot," Briggs shared in an interview with Canadian Broadcasting Corp.
In fact, the anthropologist discovered that showing signs of anger was seen as a weakness, or even childlike, NPR reports.
Briggs documented certain occasions where it might have seemed understandable to fly off the handle. A fishing line that had taken many days to braid together broke on its first use. The simple low-key response: "Sew it together."
A scolding hot pot of tea that ended up all over the floor of an igloo, damaging it, was met with no real acknowledgement. The person who knocked it over just got up and made a new pot.
Both reactions are incredible when you think of the manual labor that goes into building igloos and fishing lines.
In comparison, Briggs felt her own angry outbursts were anti-social, comparing them to a "wild child." She was left with the burning question of how the Inuit manage to raise such level-headed adults.
Briggs recounts an occasion when she saw a mom playing with a toddler on a beach. The mom tells her son to hit her with a stone, and then to hit her harder. (This might not be the lesson you want to choose for your own kids!). She simply said, "Ow, that hurts." Yet, the mom's calm response to being hurt was the lesson she was trying to teach her son. She didn't get angry or raise her voice.
In the news report for NPR, a further trip to the Arctic Circle revealed more behind these seemingly strange parenting practices. In a meeting with the elders, it was revealed that the Inuit have a golden parenting rule: "Don't shout or yell at small children."
One mom, Lisa Ipeelie, who is one of 13 siblings, explained "When they're little, it doesn't help to raise your voice. It will just make your own heart rate go up." And this is even the case if a child bites or hits a parent. The logic being that if a child is resorting to this behavior it's because there's an underlying issue that needs to be dealt with, calmly.
This is confirmed by Briggs' research: "Traditionally, the Inuit saw yelling at a small child as demeaning. It's as if the adult is having a tantrum; it's basically stooping to the level of the child."
Clinical psychologist and author Laura Markham backs the effectiveness of this calm approach. "When we yell at a child — or even threaten with something like 'I'm starting to get angry,' we're training the child to yell. We're training them to yell when they get upset and that yelling solves problems." Parents teach their children emotional regulation so the more positive the lesson, the better the end result.
The importance of storytelling
Still, you might be wondering how the Inuit get their children to behave, or even to stay safe. Well, it's thanks to the wonderful storytelling gifts embedded in the culture. The oral tradition is strong in the culture, and fanciful stories are told to kids to dissuade them from misbehaving or getting into danger: such as the sea monster who'll come and whisk the child away who gets too close to the sea.
These stories can be quite frightening: "Our parents told us that if we went out without a hat, the northern lights are going to take your head off and use it as a soccer ball," shared film producer, Myna Ishulutak. To the ears of outsiders, that might seem over-the-top.
However, psychologist Deena Weisberg believes "kids learn well through narrative and explanations. We learn best through things that are interesting to us. And stories, by their nature, can have lots of things in them that are much more interesting in a way that bare statements don't." Interestingly, she states that stories with a peppering of danger have even more appeal to kids.
The storytelling goes even further among the Inuit. If a child does something they shouldn't, like hit or bite, the parents wait for the child to calm down, then they reenact the behavior in a playful tone, including the painful act that might hurt. By seeing the consequences in a calm manner, the child learns emotional strength.
These dramas also prepare the child if something anger-inducing does happens to them. They have the memory of their parent's calm response to act as a guide. It's a lot easier to teach a child ahead of a potential temper tantrum-causing event, than to teach them while they're in the midst of one, which is impossible.
The work of the various psychologists and anthropologists who have studied the Inuit culture is fascinating, and you can discover the more in-depth article here. However, something interesting for Catholic families to consider is that the Bible provides a myriad of teaching essentials through parables and other stories. These can be taught to children in exactly the same way the Inuit rely on their sea monster. If we tell children stories they are in awe of, that help them to behave, they will pass it on to their own families.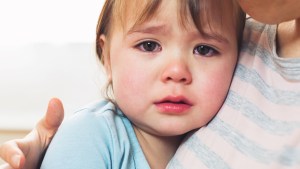 Read more:
4 Quick questions to ask yourself when your toddler is melting down