The people of Israel want a King and God sends them one, foreshadowing a greater kingdom to come.
Today is the twelfth day in our set of meditations inspired by Jesse Tree Advent Tradition. (To see previous days, click here.)
The concept comes from a passage in Isaiah, where the prophet says, "There shall come forth a shoot from the stump of Jesse, and a branch shall grow out of his roots" (11:1). Jesse is the father of King David, and Jesus was born into that same line of David through his foster-father's (Joseph's) ancestry.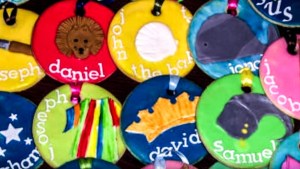 Read more:
Preparing for Christmas? Consider making a Jesse tree
Each day of December we will offer a brief Scripture passage and reflection, following God's marvelous plan of salvation in the Jesse Tree tradition.
Scripture
Therefore all the elders of Israel assembled and went to Samuel at Ramah and said to him, "Now that you are old, and your sons do not follow your example, appoint a king over us, like all the nations, to rule us."Samuel was displeased when they said, "Give us a king to rule us." But he prayed to the Lord. The Lord said: Listen to whatever the people say. You are not the one they are rejecting. They are rejecting me as their king.(1 Samuel 8:4-7)
Reflection
[T]he kingdom of Saul himself, who certainly was reprobated and rejected, was the shadow of a kingdom yet to come which should remain to eternity. For, indeed, the oil with which he was anointed, and from that chrism he is called Christ, is to be taken in a mystical sense, and is to be understood as a great mystery; which David himself venerated so much in him…Therefore he showed so great reverence to this shadow of what was to come, not for its own sake, but for the sake of what it prefigured. Whence also that which Samuel says to Saul, Since you have not kept my commandment which the Lord commanded you, whereas now the Lord would have prepared your kingdom over Israel for ever, yet now your kingdom shall not continue for you; and the Lord will seek Him a man after His own heart, and the Lord will command him to be prince over His people, because you have not kept that which the Lord commanded you, is not to be taken as if God had settled that Saul himself should reign for ever, and afterwards, on his sinning, would not keep this promise; nor was He ignorant that he would sin, but He had established his kingdom that it might be a figure of the eternal kingdom.(St. Augustine, The City of God, Book XVII)

Prayer

May the splendor of your glory dawn in our hearts,
we pray, almighty God,
that all shadows of the night may be scattered
and we may be shown to be children of light
by the advent of your Only Begotten Son.
Who lives and reigns with you in the unity of the Holy Spirit,
one God, for ever and ever.


---

To receive inspiring notifications during Advent download the Aleteia App. You'll get not only the Advent reflections for your daily life, but also the possibility to read Aleteia offline.

Our mobile app is free, fast, smooth, intuitive – we hope you'll like it, and that it will help you stay closer to the kind of stories that will raise your spirits.