The Dominican Friars offer this third meditation on the Scriptures for this Advent season
As Christmas draws near, the words of St. Paul open this Sunday's liturgy. The great apostle exhorts us, "Rejoice in the Lord always; again I say, rejoice. Indeed, the Lord is near" (Phil 4:4-5). The Third Sunday of Advent, that is Rejoice Sunday or Gaudete Sunday, the deep and abiding joy of the Lord continues to nourish Christians throughout the world as we continue our solemn preparations for the coming feast.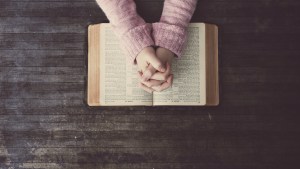 Read more:
"Godsplaining," the podcast, invites you to do Lectio this Advent
This special Sunday episode of the weekly podcast Godsplaining features the readings from the Third Sunday of Advent read aloud, followed by reflection and commentary. Follow along with this Sunday's readings: First reading- Isaiah 61:1-2A, 10-11; Second reading- 1 Thessalonians 5:16-24; Gospel- John 1:6-8, 19-28.
Join the Dominican Friars as they explore the rich, theological meaning of the Scriptures and offer practical, relatable tips for daily Catholic living.