The song sends love to grandparents who have been isolated since the pandemic began.
Send us the names of your loved ones who are sick or suffering. The Aleteia prayer network of 550 monasteries will take them to prayer for the World Day of the Sick.
Click here to share your intentions
A group of British music students have written and recorded an original song to send Christmas wishes to their grandparents. The tune, "Virtual Hugs," was written by lead singer Abby Warner, 14, who was supported by fellow students at the LS18 Rocks Music School. All the musicians who performed on the track are students at the school, with ages ranging from 6-14.
According to the Mirror, Abby wrote the song in just three days. She explained that the music was an outlet for her frustrations over being separated from her grandparents since February. She told The Mirror:
"I miss my grandparents so much. They've heard the song now and it made them cry. We just want them to know how much we love them."
Students inspiring students
A report from Honey elaborates that "Virtual Hugs" drew inspiration from the 80s UK Christmas hit, "There's No One Quite Like Grandma." Although the song had reached #1 in the UK, many of the students had never heard of it. The school's music director, Jonnie Khan, made a competition of the project and selected Abby's superb entry. Khan said:
"We set a challenge to see what lyrics they could come up with and were blown away when Abby came up with an original song that captures absolutely everything the children had been talking about." She added, "The finished track is simply breathtaking."
"There's No One Quite Like Grandma" was a fitting choice to bring to the class, as

it too was made famous by a children's school choir

. While the two share the same sentiment, however, they couldn't sound more different.
No help from adults
"Virtual Hugs" is a tremendous song to have been written by a teen. The music displays a complex understanding of chord structure, with a couple of surprising turns in the melody that work very well. Their use of background vocals is striking in the intro and the song expertly builds in each verse. The video that accompanies the song is just as well done, and features footage of the teens playing their instruments, spliced with shots of the their grandparents.
Additionally, it is impressive that the kids completed the entire project with no adult help. This means they not only recorded the music, but they mixed and mastered it as well. Along with this sound editing, the kids produced a top-notch music video.
All proceeds from the video are to be donated to help fend off loneliness in the senior community.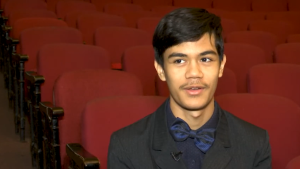 Read more:
14-year-old Catholic student is a prodigious composer